As I was writing comments about so many of the bands that were performing for "Freedom Fest", the Power of inner strength compelled me when the bass player from The Allknowing whom, I had noticed all day due to his "I Love Hot Mothers" T-shirt subtlely approached me and introduced himself as Jason Vie Brooks, the hostage of heaven whom had been ostracized from both Heathen and Grip Inc. My innate affliction, kept me guilty of innocence for not having recognized this silent stranger sooner. Instantly I recovered from my mental death on two legs, so I asked him to do an interview, as I love both of these bands!

MettleAngel: So you say you played bass with Heathen on the "Recovered" EP, how did this come about?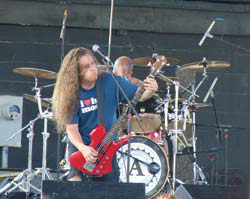 MettleAngel: The wife & I met Lee on our anniversary last year when we saw Exodus play. That was an amazing line-up. Rob Dukes really kicks ass on the new CD, and live; and Paul is an incredible drummer.
Jason: Yeah, I really love that new Exodus record. I was a bit skeptical at first, but it has really grown on me, since.

MettleAngel: You recorded two tracks for the Heathen - "Recovered" release, what songs did you perform?

MettleAngel: I love that Thin Lizzy song. Thunder & Lightning" is my favorite album by them. After you joined Grip Inc. back in '95, how was the response to the CD, given that it was Dave Lombardo from Slayer & Waldemar Sorychta? Waldemar played in Despair an under appreciated band, who released three albums, my favorite being "Decay of Humanity". Also in the early '90's , Waldemar was producing every death Metal band being released on Century Media Records. I know Metal Blade really milked the release for "Power of Inner Strength", effectively advertising all of its talent.
Jason: I had a lot of fun back then, the tour was great. Unfortunately, I was not able to tour for the Nemesis CD, our second release.

MettleAngel: You did play on Nemesis, though, correct?
MettleAngel: When did you join the Allknowing?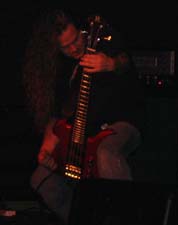 MettleAngel: What's the meaning behind the omniscient suggestion in the band's name?
Jason: The name symbolizes my 'props' to an unsigned Bay Area band called Level. They contributed a track to Metal Massacre 12 called "The Allknowing". They were such a great band, and I have their demo. They just felt they could receive a better recording contract than Metal Blade were offering them at the time. I urged them to reconsider and take the Metal Blade offer, but they did not listen; hence, they were never signed.
MettleAngel: That was such a volatile time for bands back then. One minute Exodus and Testament were on top, then the Seattle Grunge movement just crushed them. Don't get me wrong I love early Alice in Chains, Pearl Jam, Soundgarden, & Smashing Pumpkins, as those bands were like decent '70's style hard rock; it's just that American fans are so damn ambivalent in their musical tastes. MTV was still too focused on all the big hair bands anyway. I'd watch three hours of "Headbanger's Ball" B$ just to catch a Kreator, PowerMad, or Forbidden video. Even today, not much has changed. I've never even watched the new "Headbanger's Ball" with all it's Nu-Metal and hardcore outfits that just don't interest me.
Jason: I agree, Man! My band Allknowing is a tribute to the music Level were creating at the time, as they perfected the definitive thrash stylings. Also, I introduced Pat O'Brian to Nevermore. They found him because I sent his demo to Bori who was working at Century Media at the time. I also encouraged Steve Tucker to join Morbid Angel.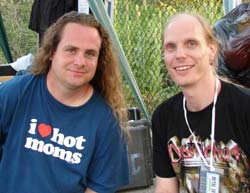 MettleAngel: Well since you were a vital ingredient to the Bay Area sound, what bands do consider to be your influences?
Jason: Dude, I love those Bay Area bands, but I also love the '90s Florida Death scene, and New York Hardcore bands like the Cro-Mags. We did a Cro-Mags cover recently.MettleAngel: Also, Allknowing hammered out a kick ass version of Motorhead's Ace of Spades live earlier today. I have to ask you, what's with the "I Love Hot Mom's" T-shirt which you are wearing?
Jason: I also have an "I Love MILFs". I wear it just to annoy my wife, you got to have fun, Man.
MettleAngel: I agree, but I annoy the wife plenty already as it is. I'm sorry to cut this interview short but I promised Triad that I catch them live.
MettleAngel: It's my pleasure, I love thrash and just wait to all my European buddies read this interview, they wil be so pscyched. Stay in touch brother!

See also: review of the Freedom Fest the same day

Related links:
www.theallknowing.net
www.myspace.com/theallknowingmetal