Interview conducted September 13 2008
Interview published September 22 2008
It was so damn cool to interview Philip Labonte, again, as we have become friends with him and all members of All That Remains, ever since we first met them over two years ago. They have a new album out, and this was the fourth time we would see them live.
Phil has overcome a great many obstacles over the last few years, and his band has truly persevered, securing their success. They have heeded this calling, and become the catalyst to such great promise. This darkened heartfelt passion is why so many follow them with one belief, and instant clarity; namely that All That Remains is the sign of true passion, never to be undone!

MettleAngel: Hey there brother, good to see you again! Congratulations on another excellent forthcoming release! Last time, we were going to do an interview, but you were so ill.
Philip: Yeah, that was the show in Covington, at The Mad Hatter. Oli, hated that place. It was there where you met our new drummer Jason Costa, right?
MettleAngel: Yes, that is correct, Shannon had departed, and joined The Black Dahlia Murder, whom we'll see with Bodom in a few weeks. There is so much I want to ask, but I understand you are inudated with interviews, and it is the bass player of Trivium - Paolo Gregoletto's birthday, as well.
Philip: Yeah, with a new album hitting stores in just a few days, I'm swamped. I always enjoy speaking with you, I'm sorry that it will have to be so brief. Come and meet up with us all after the show, so we can hang out.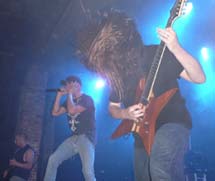 MettleAngel: Sounds good, but I won't waste any more time with idle chit chat. As you recall, when I first met you in 2006, I felt in my heart that ATR would be a success. You front a very talented bunch of eclectic musicians. You, yourself, have such excellent stage presence. You exude so much energy, with a presence of enthusiasm and angst.
Philip: Well thanks Man, I'm just out there jumping around, yelling, getting in touch with the vibe of the crowd. I'm out there to give it my all, and have fun, at the same time.

MettleAngel: You really leave your mark, you look like you are totally into each moment, and your vocals have improved so much over the years.
Philip: Definitely, and you were right, because, we are finally doing well for ourselves. It has been a long road getting here, but all that hard work, and perseverance is finally paying off. Currently, we are the #1 act on Prosthetic Records, with The Acacia Strain, following behind.
MettleAngel: You definitely deserve to be #1, and Skeletonwitch, another very diligent act, should be just a few steps behind. You have been faithful to Prosthetic, as well, releasing all albums on their label. I guess you are gratefull that Overcome hits stores this Tuesday, and Metallica hit stores yesterday. On Tuesday, your only rival will be the hurrendous Buckcherry, whom I saw on Crüefest, and they were god awful. There is also a live album from Avenged Sevenfold, but I'm sure ATR will trounce their competition.
Philip: Well, as far as Metallica, we had no expectations. Let's face it, they will be #1, no matter what.
MettleAngel: Yeah, I heard they moved a million on the release day alone!
MettleAngel: I guess that is true, as those bands are more rock oriented, and ATR is dubbed Metalcore, even if you transcend that label. It's not like Trivium facing off against Bleeding Through on Sept. 30th. I feel Overcome will still chart well. Slipknot debuted at #1, and Hatebreed #1 on DVD Music charts. Are you selling the CD early while on tour?
Philip: Yeah, we decided to go ahead and do this. We sold 65 copies last night alone! If you combine that with our pre-sales, the total comes to over 500! This is very good, especially, before the CD actually gets released!
MettleAngel: I agree, all those sales will enhance your soundscan chart position. I just received my promo copy Thursday, and I'll review it to correspond with this interview.
Philip: We decided to sell it early, because, we want to give our fans the respect they deserve. They paid to see us play tonight, so why make them wait until Tuesday, to get the CD; especially, since we will debut some new songs, in our set.
MettleAngel: I agree! I also noticed that Oli is selling his own signature guitar tablature book, at the merch. booth. He is such a great guitarist, yet so humble. his solos are absolutely amazing on Overcome. In the midst of an onslaught of so many Boston based bands, ATR impress me the most, next to Shadow's Fall, of whom you originally sang. There is so much diversity in the playing. You have progressed. I remember when your style was more straightforward deathlike, in the vein of say Malevolent Creation, or Arch Enemy. By the way, have you hear the Overcast which was just re-released? It features Brian Fair, as well as the cats from Killswitch. This was their early 90's era band, before all the Boston Metalcore hype.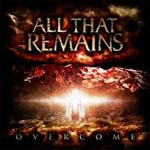 MettleAngel: Your knowledge of so many musical styles from Hardcore, to Death metal, is what gives you such an edge. As I began to play Overcome, once it arrived, the opening track made me think you were going for a Chuck Billy vibe on "Before The Damned". Then again, I had just spun "The Formation Of Damnation", so his style was present in my thinking.
MettleAngel: Ahh, yes, now that I've heard it a few times, I do hear Glen Benton; although, there is no inherent evil in your tone. That is another point, which I want to make. Your lyrics have really matured over the years. I respect the subtle ambiguity on Overcome, which allows the listener to discern for himself the meaning, behind the music. I find it notable, how you can fluctuate from brutal base cadence, to midpace clean. Even your lowest register, is still understandable.
Philip: Thanks Man, yeah, it is in no way easy, as very few vocalists can keep this up. Perhaps Howard Jones of Killswitch Engage, and Jamie Jasta of Hatebreed, and a handful of others have this tenacity. Our style does not run the gamut, and it takes hard work, and years of practice. I undergo a regiment of vocal exercises everyday.
MettleAngel: (Laughing) I'm sorry, when you mention Howard Jones, my generation recalls the 80's New Wave singer, with the funny hair. I'm not that into Killswitch, but I do see what you mean, and I congratulate you on a noble effort. It all pays off in the long run, because, I enjoy the manner in which you attentuate your vocal presence.
Philip: I'm a fan of many Death Metal bands like early Suffocation and Grave. I follow their baritone standard, but I also like a lot of clean vocalists, as well.
MettleAngel: Well, you've created your own vocal histrionic and character. Now, I'm sure this is becoming a question asked, 'ad naseum', but I have to know for myself, why chose to cover Nevermore's - "Believe In Nothing"?
MettleAngel: As a fan of Sanctuary, one who tolerates Nevermore, that does not cut it, so elucidate, kindly.
MettleAngel: Honestly, I've struggled to understand why so many love Nevermore, and why a band like Communic would copy them so much. I too, love what Warrell did with Sanctuary, and his early efforts with Nevermore, but the music became so modern, and boring to me. Warrell stays away from me when I see him live, and he knows my sentiment. He still promises to do a revised "Eden Lies Obscured" on the next Nevermore release. His latest solo album was so over-rated!
Philip: We chose to do Nevermore, because, so many bands are covering 80's era acts. Killswitch did their version of "Holy Diver", and that's all fine for them; but, we wanted to step outside this box. We wanted to find something dramatic, different, and dynamic. We initially were going to do "Hammer Smashed Face" by Cannibal Corpse, but we ran out of time in the studio. When I suggested Nevermore to the band, they felt challenged.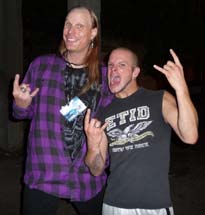 MettleAngel: Really, how so?
Philip: Honestly, no one knew how to play this song. I knew all the words, but they had to learn the music. It presented itself as a real challenge for us all. Jeff Loomis is an incredible guitarist, and Van Williams is an awesome drummer. Our drummer Jason really struggled to match Van's talent. Once we figured it all out, it really came together nicely.
MettleAngel: I do like it, and probably more than the original, as you have a different vocal approach, altogether. I would also have liked to hear the Cannibal cut. Tell me a little what it is like working with Jason Suecof for the first time.
Philip: He is amazing! I tell you, if he were not stuck in a chair, he'd have quite a career ahead of him.
MettleAngel: He already does, producing so many reknown acts, and playing in so many projects, like Crotchduster. He has produced and worked with so many great bands like Trivium, Sanctity, Cynic, etc. He has such a great work ethic. It is sad how he suffers from the Jason Becker/Jeff Becerra syndrome. I think his production on the latest Kataklysm is astounding. How is it working with your new drummer Jason Costa, formerly of Dyecast?
Philip: Jason has so much energy, and he worked well with Jason Suecof in the studio. Suecof is all about getting the drums down first. They both clicked so well, as Suecof wanted to avoid that ringing drum sound. He set out to avoid the unnecessary clanging and banging that certain production has.
MettleAngel: Like on new Metallica....
MettleAngel: I've also noticed that like your former albums, you have kept the running length to about 40 minutes. This laconic approach does allow for multiple rotations and more listening enjoyment, though.
Philip: Exactly, All That Remains likes to keep their songs simple and to the point. We love the guys in Trivium, but they have such long, enduring songs. We love touring with them, because we will balance our set with theirs, as we rotate who plays last. Tonight, they will play seven songs, two of which are new, and then the Maiden cover, but that is it. Whereas, we will play 13, at least two of which are new, and we will always play the fan favorites.
MettleAngel: Trivium are playing new songs, as well, probably because their album comes out September 30th. They are such a different band than All That Remains.
Philip: We schedule our set list to incorporate all the hits, because we want to please our fans. We have some new songs from our My Space, which our fans already know, and we'll play songs like "Chiron" and "Two Weeks". (Pleasing their fans is what they did later that night, because after playing all songs on their set list, the overwhelming response of the crowd encouraged them to play two unrehearsed songs, including the new song "Undone").
MettleAngel: The thing with Trivium, is they are more thrashy, but like Metallica, their songs are longer. All That Remains have that Hardcore edge, with more punchy abbreviated melodies. Actually, speaking of Death Magnetic, there is not a song under seven minutes, and yet they never get to be boring. I'm grateful that bands like Trivium have gained so much recognition, that Metallica finally wised up and wrote such a killer new album. I love it. I just watched the video for "The Day That Never Comes", which I assumed was about spousal abuse, but the war in the Gulf themes permeated as well. With Death Magnetic, Metallica have proven to their fans that they still have a few tricks up their sleeves. Oops, I'm deviating again...
Philip: No that's cool, because, we are out of time anyway. I know the boys in Trivium are playing the new Metallica and trying to win Oli & I over, so we'll see.
MettleAngel: Well, again Phil it was great to speak with you, even if only briefly. Once again, congratulations on another excellent CD. I'm sure the show tonight will kick ass!
Philip: No doubt, we have a few tricks of our own in store, later!
(After I finished speaking with Phil, and his Tour Manager ushered him to his next appointment; since we were already backstage, Bassist - Jeanne Sagan & Drummer - Jason agreed to answer a few questions.)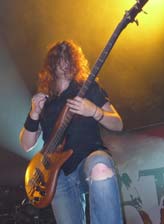 MettleAngel: Well hello again Jeanne, it is great to see you again. tell me a little about The Warped Tour which you just finished. We wanted to see you on that, but we had another conflict.
MettleAngel: I saw a Warped Tour sampler at Best Buy, but I did not see All That Remains listed on there.
Jeanne: So many bands were booked for that, and there were several CDs distributed. We really received a great response. Many people discovred us, and now they are excited about the new album.

MettleAngel: You played here in Cincinnati at Riverbend. I'm sure those new fans will be in attendance this evening.
MettleAngel: You also issued a DVD and a Live album last year, so I'm sure you sold a ton of merch. As a female in a very popular US Metal band, it seems like you get hit on by a lot of dudes. I find this peculiar, as you act just like one of the guys, anyway. It's not like you were featured in any one of The Revolver - "Hottest Chicks In Metal" B$ issues, which have ignored plenty of megablast babes. Hello, Doro! What about Sabina Classen, or Sabine from Edenbridge, woops, lost track for a minute, sorry....
Jeanne: I don't get it either. I was never that cool in High School, no one really talked to me, so I just kept to myself. Now that I'm in ATR, guys want to buy me drinks and flirt, telling me how much they love me, and shit, whatever! Overall, I'm just here to play and have fun, and meet my fans.
MettleAngel: I agree, it's like you have become Sean Yseult of White Zombie, or D'Arcy of the Smashing Pumpkins. Thanks again for handling a few questions. (Then Jason comes up to me...)
MettleAngel: Well, yeah Phil and I were discussing it...

Jason: Yeah, I overheard, and I'll tell you he's right. I did not know that song at all. I had no idea how complex Van William's style was. Working with Jason in the stusio was a real challenge for me, as this was my first time recording with ATR. I'm still the new guy, so I have to prove myself.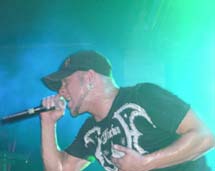 MettleAngel: I think your drumming crushes on Overcome!
Jason: Thanks Man, that means a lot coming from you! Suecof really put me to the test. I busted my balls to placate him. That Nevermore song sounds simple, until you sit down and try to play it. I had to study Van William's technique over and over. I had a great time laying down all my parts. We are so excited about the new album, and this tour!



MettleAngel: You sound stoked!
Jeanne: After we finish this killer tour with Trivium, 36 Crazy Fists, & The Human Abstract, we get two weeks break, then it's back on the road with In Flames.
MettleAngel: Well, we'll have to catch you on that one as well!
MettleAngel: Well Jeanne, Jason, and all members of ATR, it is always an honor to talk with you guys (and girl). I love hanging out, on and off the record. I've been encouraging all my friends to get the new CD this Tuesday a Best Buy. I'll be reviewing it to post in accord with this interview.
Both: Woah! That will be awesome! (Jeanne:) The review you did for Fall Of Ideals was excellent! (Jason:) No doubt, that was one of my favorites, and I did not even play on it!
MettleAngel: Well, I'll try to top that with my kind words for Overcome. Thanks again!

See also: review of the album Overcome
Related links:
www.allthatremainsonline.com
www.myspace.com/allthatremains
www.youtube.com/user/allthatremainsmusic