Since up until recently, I was totally unaware of this band, and their New England affiliations; it was, in deed, an honor to heed this calling for an interview, and to become the catalyst with all that remains of the truly gifted artists whom are determined to succeed; thus never posing or becoming weak-willed. This presence of never feeling empty inside serves to underscore the prevailing spirit for their collective conscientious musicianship, and surprisingly inspirational talent. Their new CD "The Fall Of Ideals" may be a bit terse, but it is filled with amazing vocal histrionics and guitar harmonies. Before the show began, I met the entire band on the bus to discuss their new album, which at this time I had not heard.

MettleAngel: What does the name All That Remains, in fact, symbolize for the band?
(Philip:) Well no one else had used it when we chose it, and it doesn't sound stupid, which is a good thing. (Oli:) To me it represents all that remains of the true Death Metal/Hard Core of the late '90s. Our band defies categorization, while still upholding the old school approach. All That Remains embodies the classic sound of the 80's as well, using twin guitar harmonies. (Phillip:) Our first record was more grandiose in scale - more time spent on the solos, our new album is more melodic and fluid. (He then plays the CD.)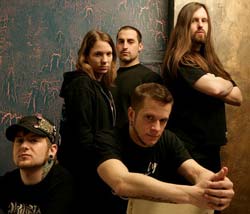 MettleAngel: So who are some of your influences?
(Oli:) Andy La Rocque, Helloween, Nightwish, to just name a few. I also love classic heavy metal. (Phillip:) Grave - the first time I heard "Solace" I knew I wanted to sing. Also Entombed "Left Hand Path". That early 90's Swedish death metal scene killed! (Jeanne:) Iron Maiden, Metallica, Skid Row - I just listened to what my big brothers were playing. (Mike:) Guns 'N Roses, enough said - Appetite destroys!

MettleAngel: Mike, have you ever heard Saul's Hudson (aka Slash) flamenco or jazz?

MettleAngel: Oh yeah, it's worth checking out; it's different for Slash. Snake Pit is straight up rock'n roll, but the flamenco guitar style which he plays is unlike Guns 'N Roses, entirely. I remember working in a music store and people were coming in looking for these Saul Hudson CDs in the New Age section; not even aware that it was Slash from Guns "N Roses. It's like at Christmas time when they would come looking for Trans-Siberian Orchestra - not aware of the Savatage connection.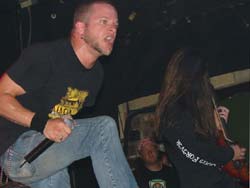 MettleAngel: Yes, and Kurdt Vanderhoof of Metal Church is now their sound engineer...
(Shane:) My influences are of a much more brutal nature; I love death metal like At The Gates, Cannibal Corpse, and Slayer. I was considering playing in a death metal band; but it is not really a viable market - unless you're Cannibal Copse. I love the band Decapitated form Poland - that is some seriously intense and brutal drumming and also Tim Young's work with Vital Remains really impresses me.
MettleAngel: As you are from Massachusettes what other bands have you played in?
(Oli:) I completed my bachelors degree in music. I studied under Frank Aresti, when I was in a prog. band named Flatliner with Slo (Unearth). We were not too successful, so now I have my music degree if things don't work out here.
MettleAngel: Oli, you are an excellent guitar player and I ensure that you will be sucessful with All That Remains.
MettleAngel: A sense of humor is a vital ingredient to metal. There is a certain degree of risibility which naturally follows the genre and essentially always has. I just saw Sampson's "Biceps of Steel" with Bruce Dickinson, talk about your Spinal Tap!
(Philip:) Well in today's world with the internet so accessible; where everyone has a voice - you just have to accept this. I sing harsh and clean, and we are from Massachuttes. So no matter what we sound like, we are labeled as a metal-core band.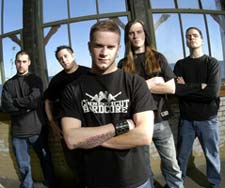 MettleAngel: You don't sound metal-core to me, but I've been listening to metal for over 25 years, so I consider Shadows Fall to be thrash like old Metallica and Anthrax.
MettleAngel: So how has the response been for the Ozzfest tour?
(All:) Extremely good especially since our new CD came out recently. (Oli:) Yeah, we have more offers for signing and selling merchandise, now than when the tour first began. (Phillip:) It's been extremely good especially considering the diversity of all the bands. I sing and scream and the fans really love it.

MettleAngel: Well, I was unfamiliar with your band until recently as I'm inundated with so many bands lately. I am definitely looking forward to hearing you play live. Given all your unique influences, so thank you for this interview.
Related links: