Interview conducted August 08 2014
Interview published October 10 2014
Ahead of Airbourne's gig at Getaway Rock Festival, Metal Covenant sat down with guitarist David Roads. It was evident that the cheerful and sociable Australian loves his rock 'n' roll, and he and his bandmates certainly proved it as they went on and do what they do best: entertaining audiences with high-adrenaline rock 'n' roll and great tunes.

Mozzy: You played at the first Getaway Rock as well, in 2010. Do you any special memories of that?
David: Yeah! Well, we had a good show and it's a great festival, it's well run. I think Megadeth were headlining back then.
Mozzy: Yes.
David: When we first got here today I wasn't sure if we had played here but then it came back to me. It's just a good little festie, you know.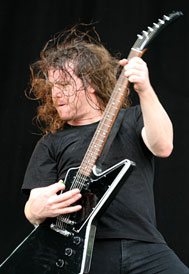 Mozzy: That time you were sort of new stars, a really upcoming band and you had just released your second record. If you compare it to coming back here now, is the feeling different?
David: Yeah, I think it was around the second album; did we have that one out?
Mozzy: Yeah.
David: OK, well the years are going quick really and here we are on our third album and getting going on our fourth album actually. So it definitely feels like we have more experience, and it's good to have a few albums under the belt. You don't feel like you're a young kid band anymore.
Mozzy: And you have more songs to play.
David: More songs to play, yeah. It's actually hard to choose a setlist, you try to pick songs from all the albums.
Mozzy: It must be really hard for the older bands.
David: Oh yeah, that's right (laughs).
Mozzy: So how do you like Sweden otherwise?
David: Sweden's really good. We had two days off in Stockholm. I have some friends there so we went out to the archipelagos, to the islands and had some good beer and good food. It's a really nice place.
Mozzy: Do you remember the gig at Sweden Rock in 2008, then? That was the first time me and many other Swedes saw Airbourne.
David: That's getting a bit far back to remember specifics as we've done so many shows. I remember coming to Sweden for the first time then though. It was definitely an eye-opener as it was our first time to Europe really, and coming to these countries for the first time. That was a good experience. Now we know our way around a bit more, but the first time was the best because it was the first time we'd been here.
Mozzy: I really remember that gig at Sweden Rock, as I was quite blown away, just like many others, by your energy onstage.
David: Oh! Well, you just got to keep the energy levels up (laughs).
Mozzy: It's obvious when you're onstage that you have a genuine passion for rock 'n' roll…
David: Yeah!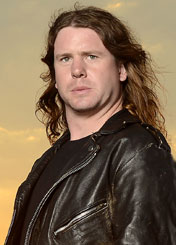 Mozzy: Do you have any special routines before you go onstage, to get that energy going?
David: No, not really. It's just what we feel, and we feed off the energy. You can be really tired before a show but once you're up onstage you feed off the crowd, and all those Marshall amplifiers behind us; the sound of it all. Once we get up there we just kind of gel together and just get caught up in the atmosphere of it all and feed off that.
Mozzy: You have played some big festivals since the latest album. Like Download, which I went too actually.
David: Oh yeah?
Mozzy: How was Download for you?
David: Download was good! Mid last year. We had a really good crowd, because we hadn't been on the road for nearly two years before that. We spent a lot of time on Black Dog Barking and things just took a while for us to get back out. So it was really great to come out and do Download and have such a massive crowd watching us. And this year, we did Knebworth (Sonisphere) because we couldn't do Download two years in a row. And Iron Maiden were headlining that one too which was cool. Bruce Dickinson got up and did the dogfight flying so that was cool too.
Mozzy: Now that you have played with these big guns; you've played with Metallica as well…
David: Yes!
Mozzy: How are those experiences; do you get any tips from those guys or so?
David: Well, we did not really get a chance to meet them. There were some moments when coming off stage. I think Kirk Hammett was side stage watching a couple of songs and as we were coming off he was like 'good show, guys', you know. But yeah, Metallica has been a big influence on us. Great band, and it was good to share the stage with them and just watch them play. I'd love to do a tour with them, so hopefully (laughs)!
Mozzy: You do have a harder edge to your sound as well, a bit of metal.
David: Yeah, it's not just AC/DC. They are a big influence on us but that's not all. I think it's a mix of Motörhead and AC/DC. Like AC/DC with a kick up the arse. But AC/DC is very bluesy with blues riffs and licks, whereas we're more kind of like powerhouse rock 'n' roll and down the line. If you mix Motörhead, Judas Priest, Metallica and AC/DC together - that is kind of it.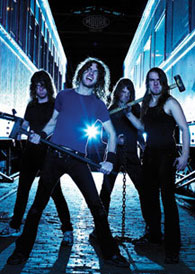 Mozzy: That is a good combination!
David: It is (laughs).
Mozzy: Have you started the writing for the next album?
David: Yeah, we're always writing on the road. We're putting riffs down at soundchecks, so sometimes on days off… Joel is carrying a little Protools rig around so sometimes on days we're putting ideas and demos down so when we go off the road we can just go straight in there and get everything we've worked on and start putting things together. So we've always got stuff in the works.
Mozzy: Cool. Can you say anything about the style, will it be the same?
David: Oh you know, it's just ….. rock 'n' roll, it does not need to be changed to much. We just do what we do. There's not going to be massive changes with keyboards and things like that, you know.
Mozzy: Good to hear.
David: (laughs). It will be a bit different, and exciting, but still rock 'n' roll, you know.
Mozzy: How about your ambitions for the future? I don't know if you plan far ahead, but I guess you want to grow more?
David: Yeah! I think the course we've been going on now has been pretty good. We've been growing healthily and getting good fans, hardcore fans, over the years. Fans that will stay true and stick by us throughout our career if we stay loyal to them and don't change our music, and just keep doing what we do. So we'll just stay strong and hopefully come over to Europe and do these big festivals and having great crowds to play to. What more can you want?
Mozzy: True. That's the way to do it, to play live, now that there are less record sales.
David: Yeah, absolutely.
Mozzy: You will be touring with Black Stone Cherry later this year. That could be a good tour since they have a large fanbase.
David: That's going to be a great tour, yeah. We're only doing like six or seven shows, but that will be great, touring the UK. Yeah, Black Stone Cherry have grown quite successfully over the years so it will be good to share the stage with them.
Mozzy: They are a bit more accessible, it's more radio rock.
David: Yeah, it's a bit different, but it's in the same vein.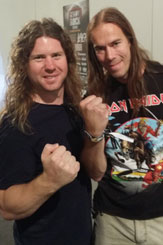 Mozzy: I've noticed that you're quite into social media too, you put out some video clips and so on. Do you find that is a good way to connect to fans?
David: Yeah. We've just started doing the Airbourne TV thing. We felt we weren't doing enough so on social media, so we started doing this thing on days off. We just did our third episode, in Stockholm. We set it up in the hotel. We invite our crew and we'll talk to our fans about the gear and the stage. The footage from the last two weeks have been edited, so we try to do one every two weeks, to show what the tour has been like. And then fans can ask questions to us online so we interact with the fans that way. You know, in the old days band just used to play live and there was never that real connection with the fans. It was more mysterious, wasn't it? Like with Kiss that were never seen without their make-up. Times are different now and the world is more social now. For a band you really need to interact more with the fans as opposed to just playing live. So we thought that Airbourne TV would be a good thing.
Mozzy: I have to get an account then!
David: Yeah! It's just some idiots drinking beer and talking to the fans and having a bit of fun, you know (laughs).
Mozzy: Do you have any plans for a live DVD sometime?
David: Yeah… that's something that has been asked for. I don't know, there has been talk. We have a lot of footage from over the years, like Wacken, and from lots of other shows. And there's a lot of film clips we could put in there as well. So we will probably do one down the track. I mean, at the moment, this Airbourne TV thing is giving the fans a bit of that anyway. It's showing some live footage and behind-the-scenes, and what we do on days off. But we probably should do one down the track, yeah.
Mozzy: I got the special edition of the first album with the live DVD from Wacken as a bonus. That one's great.
David: Yeah! That was the first time we played Wacken, that was a good one.
Mozzy: Me and my mates have watched that one a lot when partying, it very good for that (laughs).
David: Yeah (Laughs). And then we did Wacken in 2010, with Judas Priest. It was night time then, so we had pyro and the light were much better as it was night time.
Mozzy: Speaking about pyro and stuff, do you have ambitions for your stage show as well, to make it bigger?
David: Oh yeah! We'd love to go to the level where we have our own stage and pyro. Because obviously we're all about the show, and it will be great to make it bigger and bigger. But you know, it costs so much money to bring pyro and all that. But down the track, if we can afford it and it grows bigger we'll put it into the show, for sure.

See also: review of the gig the same night
Related links:

www.airbournerock.com
www.facebook.com/airbournerock
new.livestream.com/accounts/9002532