Interview conducted December 11 2009
Interview published December 21 2009
Scottsdale, Arizona is the home of two sets of mettle brothers who are, yet, dead set against metalcore trends, and poseur pursuits. Yes, this Age Of Evil quartet are bonified Traditional metalheads living a sick dream, with a determined iron attitude.
On their new (EP) 'Get Dead' they showcase a modern groove, going against the black tide, and trivial humdrum, performing with slick melodies, and alluring youthful expertise.
In a glimpse of light conversation, and calm, but eager exchange, I spoke with lead vocalist and guitarist - Jeremy Goldberg - about the solidarity and the band's success, their extreme love of Metal, and their old school intentions, as brothers bonded by blood from the very beginning.

MettleAngel: Hey Brother, I am so glad that we were able to to do this interview. When Jen Farhood contacted me about a week ago, I was a bit reticent; because, I am leaving for Cleveland tomorrow to catch the 25th Anniversary Of Auburn Records. I will see such bands as Attaxe, Eternal Legacy, Wretch, Destructor, Breaker, and Shok Paris.
Jeremy: Wow, that sounds cool! Man, I want you to know that we really appreciate you agreeing to do this interview.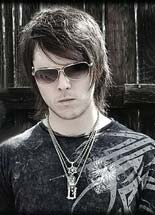 MettleAngel: I must say, I did become even more motivated and excited once I received the signed CD, sealed concert T-Shirt, and Christmas card, from the band. Thank you for these, I really appreciate it.
MettleAngel: I have been wearing the 'Living A Sick Dream' T-shirt all week. In a digital age, when us volunteer writers are taken for granted, being merely rewarded with pod cast music, it is refreshing to receive something more tangible.
MettleAngel: I was given the actual Exodus - 'Shovel Headed Tour Machine" 2 DVD/1CD package as a gift from Nuclear Blast. These perks inspire us to continue doing what we do best.
MettleAngel: Anyway, while wearing the shirt last night, when I was brushing my teeth, I noticed the AOE logo in the mirror looked like SOS.
Jeremy: Yes, and it reads the same upside-down. We designed the logo that way intentionally. Logos are very important to us. It is a way to distinguish the band. Just think of the trademark tongue with The Rolling Stones, or the wings with Van Halen or Aerosmith.
MettleAngel: I agree, the logo is very important, and something which clearly will define the band, once it is recognized. This explains why you use all lower case letters. I am sure that being from Scottsdale, you can relate to the Flotsam & Jetsam album - 'High'.
MettleAngel: Have you seen the back of that CD? They wrote all the songs in the font of their favourite bands. The album is decent, but what a way to make your album stand out, amongst others.
MettleAngel: That is cool. I actually have some connections with Scottsdale, myself.
MettleAngel: I lived there in the late '70's, well before you or anyone in the band was born. In the mid to late '80s, I would go there to visit my father. I was totally into the local metal scene of Flotsam & Jetsam, when Jason Newstead was in the band, Sacred Reich, Atrophy, Cerebus, etc.
MettleAngel: I remember when the dudes in Sacred Reich were roadies for Flotsam. You know the last song "Administrative Decisions" on 'Ignorance' is about Coronado High School. My sister went there.
MettleAngel: I really like Age Of Evil. I have been telling many of my old school friends to check you out, over the last few days. You remind me of Black Tide, and Atreyu, without the harsh vocals. Their new album - 'Congregation Of The Damned' was a real burner.
MettleAngel: Dude you are way better! The only thing I credit Trivium and Bullet For My Valentine with, is getting Metallica to wise up to these copycats; thus, 'Death Magnetic' crushed their metalcore crusade.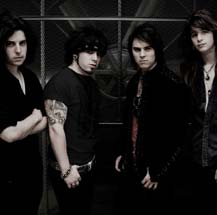 MettleAngel: Trivium are decent, but I prefer Age Of Evil; since you are more Traditional Metal, with slight modern vibes.
Jeremy: We began early on as a Classic rock act, then we progressed into a punk inspired band; finally, we chose to play and remain as metal band.
MettleAngel: I can hear all those aspects in your band. There are the punk and thrash elements, as well as Classic Rock tendencies.
Jeremy: When I define metal I feel it must have the following qualities: melody, groove, and attitude.
MettleAngel: That is a good and well-defined description.
MettleAngel: Tell me about it!
MettleAngel: They may be Metal, but not mettle! I strive to appreciate all these new acts, and the new direction of Metal, as I am old school all the way. All the bands we once dubbed as being metal in the '80s, like AC/DC. Bon Jovi, Sabbath, etc. are now essentially Classic Rock.
MettleAngel: I agree, although, Black Sabbath embody your three criteria to the highest degree. When I was a kid, eveyone considered Zeppelin as the founders of Metal. Speaking of Gods of Metal, kudos to your Priest cover of "Hellion / Electric Eye". I am glad you did not try to reach Halford's range.
MettleAngel: Have you heard his new Christmas album - 'Halford - III - Winter Songs"? He does not sing high on that either, and it is a mixed bag of Holiday jeer, and Yule Tide sedition.
MettleAngel: You are not a singer like Halford, Dio, Bruce Dickinson, Geoff Tate, etc. but as the lead front man, you articulate quite clearly. You remind me of the singer from MX Machine.
MettleAngel: They are an obscure thrash act from L.A., who released their album 'Manic Panic' on Restless Records in 1988. They had great songs like "No Glam Fags" and "Fuck The Neighbors".
MettleAngel: They were also featured on the greatest horror soundtrack of all time - 'Leatherface: Texas Chainsaw Massacre III' which featured: Lääz Rockit, Sacred Reich, Wrath, Death Angel, Hurricane, and Utter Lunacy covering "Monster Mash".
Jeremy: Wow, I will have to look into that. We definitely add our own character to our covers. With Judas Priest, I wanted to embody all the aggression and attitude of '80s metal.
MettleAngel: Tell me about your choice to cover Skid Row - "Slave To The Grind". Interestingly enough, the first and best song on the new Halford - "Get Into The Spirit" reminds me of this rippin' track.
MettleAngel: Oh, do tell...
Jeremy: I love Sebastian Bach's style, but I do not want to imitate him. We worked very diligently on this (EP), while we toured Euope. Once we finished the tour, we spent one extra day in the studio, and this is when we chose to do the Skid Row cover.
MettleAngel: Are you all big Skid Row fans? I interviewed Rachel Bolan earlier this year. I told him about the Headhunter and Hammerfall covers, now I will have to let him know about yours.
MettleAngel: You mean you just did it impromptu?
Jeremy: Basically, yeah. I had the song on my iPhone, and the lyrics right in front of me. I read through those a few times, and we were good to go.
MettleAngel: You mean you had not previously memorized the lyrics? Surely, you have seen the video?
Jeremy: I saw the video years ago, when I was younger, but this time we did the whole song in one take. Our drummer was spot on.
MettleAngel: Get out! One take! It sounds so professional, and well-rehearsed.
Jeremy: That is not how we operate. While recently on tour with Tesla, we hammered out our cover of Whitesnake's - "Still Of The Night", without any prep.
MettleAngel: Damn, I would love to hear that! You probably did a better job than Whitesnake on their most recent summer tour with Priest. Their last album - "Good To Be Bad" was awesome, but they were so disappointing live. This reminds me, are you Bon Jovi fans too?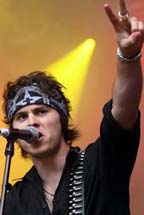 MettleAngel: Well, because the new Bon Jovi is awesome! It took a few listens, before it really sunk in, but now I love it. The bonus DVD is top quality too, and it makes sense, as I checked out this coffee table book from the library about the band called When We Were Beautiful.
Jeremy: Is it really good?
MettleAngel: It reminds me a great deal of 'Keep The Faith', with hints of 'Slippery' and 'New Jersey'. I have not liked anything they have done for over a decade, but now I am willing to rediscover those in between album all over again. This is exactly what happened to me last year after witnessing Def Leppard live.
MettleAngel: I suppose since you are all so talented, you can just play music by ear?
MettleAngel: This is what I thought...
MettleAngel: They are both quite musically accomplished.
MettleAngel: Get the fuck out! Get the funk out...really? Sure, Nuno Bettencourt is a excellent guitarist, but those guys suck. I hate the ballad "More Than Words", and do not get me started on Gary Cherone's stint with Van Halen!
MettleAngel: I would not recommend covering them.
MettleAngel: They did that at a time when Red Hot Chili Peppers were gaining recognition. This, of course, led to Mordred's transition from thrash to funk, as well, and let us not forget Mindfunk. All those bands blow Extreme away, even the monkey business of Danger Danger is more acceptable.
MettleAngel: You mentioned your love of Whitesnake. I find it funny how Soundgarden and Alice In Chains have been added to www.metal-archives.com but Whitesnake and AC/DC have not! Also, for fans of Tawny Kitaen from the trilogy of videos, check out her softcore film - "The Perils Of Gwendoline'.
MettleAngel: There is plenty of second skin! I assume you like the new Foreigner, what a line-up!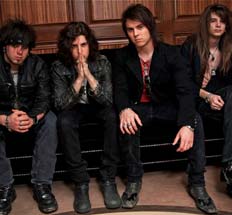 MettleAngel: Now you are talking! It was so cool to see Stryper this year and have them cover "Peace Of Mind". On your debut, I really like your cover of "Call Me Evil" by Ballistic. I understand Tom Gattis even wrote additional lyrics for your rendition.
Jeremy: Ever since Tom moved to Arizona, he had been very supportive of the Metal scene. When he worked with us, he helped us to create an even more aggressive version than his original.
MettleAngel: I love Deuce, Tension, Wardog, and Ballistic. How did you hook up with Tom?
Jeremy: Marty Friedman played a solo on the title track to our debut. As you know he played with Tom in Deuce, so we met through him. Also our producer John Herrera, who recorded the debut, also did the Ballistic album.
MettleAngel: How did you get so succesfull so quickly?
Jeremy: In 2007, we played Bang Your Head Festival, since they needed a warm-up spot. Then we were moved to mainstage. We became the first confirmed act for 2008. Our photographer has some cool connections, which is how we secured the Jon Oliva Tour.
MettleAngel: That is cool. On your new (EP), how did you choose what two live songs to include, in addition to the two new tracks, and two aforementioned covers?
MettleAngel: I do like those, and the live version of "Glimpse" does not sound as much like Dethklok as it does on the debut.
Jeremy: That song is about a nightmare, and what one might say when awakening from a terrifying dream. I agree, there are not the studio effects, added live.
MettleAngel: It would have been cool to hear a live rendition of "You Can't Change Me", which reminds me of Suicidal Tendencies "You Can't Bring Me Down", or even the title track live. I guess I will have to see you live to hear those.
MettleAngel: Do you have any plans for a US Tour, in the works?
Jeremy: We are actually more popular in Europe than the states. We have toured with Jon Oliva's Pain, Soulfly, and Tesla. Right now, we are going to focus on finishing the new album, then we will plan a tour. We may do something with either W.A.S.P., or PowerMan 5000.
MettleAngel: I would rather see you with W.A.S.P.
Jeremy: I agree, as we tend to straddle the lines between the old and new, W.A.S.P. would be better suited. Did I also mention that I am a big fan of Jason Becker?
MettleAngel: No, but Marty Friedman and Jason played in Cacophony together.
MettleAngel: I know. There are so many underrated guitarists. Did you know that Keel's Marc Ferrari played on the 'Power Metal' album by Pantera, when they were actually good, and sounding more like Priest, Def Leppard, and Van Halen with their earlier releases?
MettleAngel: Did your parents' love for music assist you in getting into Metal?
Jeremy: To a certain degree, yes, but we all discovered most bands on our own accord. All these musicians of the past have really inspired us, and allowed us to shape our own style.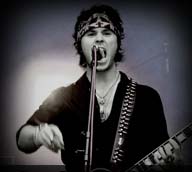 MettleAngel: In what ways?
Jeremy: Well, for example, I just prefer to sing in a clean fashion. If I ever chose to use a harsh vocal, it is usually just one word, for emphasis.
MettleAngel: This may be why you get labelled as being Power Thrash. I do not view you as thrash, though, really. I do feel you have that aggressive, groove element of which you earlier spoke.
MettleAngel: Your music is very engaging, and very enjoyable. I do recommend it. I look forward to the new album.
Jeremy: Man, we are so stoked about this. The new direction will even be more Metal, and more Classic Rock based. We are redefining our own character.
MettleAngel: Well, hopefully, I will catch you on tour next year. In the meantime, I will keep playing your 'Living A Sick Dream' debut, and the killer 'Get Dead' (EP), which you just released this November.
Jeremy: Cool Man, it has been great spending some time chatting with you. I am at the Metal Covenant site right now, and I really like what you have done. Your reviews and interviews are so much fun to read. I am excited to see how this one turns out.
MettleAngel: I will work on it once I return form Cleveland. Jeremy, all the best, and stay mettle during this unholiday season!
Related links: