Interview conducted February 02 2011
Interview published February 04 2011
German legends Accept have got a new and fruitful start with a new singer and their recently released album Blood Of The Nations has got good reviews all over the world. They are currently touring the world in promotion of the album, and Metal Covenant was not late to approach guitarist Wolf Hoffmann with a few questions when the opportunity arose.

Tobbe: Blood Of The Nations is a strong album with positive reviews from all over the world. If you listen to it today, about five months past its release, is there anything you wish you had done different?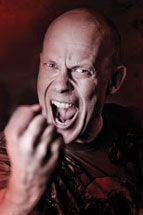 Tobbe: Honestly. With many critics giving you a hard time for continuing without Udo, did you expect Blood Of The Nations to be such a success and such a critically acclaimed album when you were done recording it?
Wolf: It is pretty confusing when you think about it, that someone who has his own band for over 20 years is EXPECTED to leave his band to join another band - no matter the artists name. What we do understand is, that there are fans - and we totally respect that - who love to remember the past. But , you know, we all move to somewhere and is it not the most important thing, that an artist is where he feels most creative, most happy and most comfortable. Have we not proven, what we can do, if we feel at the top of our creativity? I guess, we have. Blood Of The Nations is the result of several miracles - miracles we have never even dreamed off.
Tobbe: This spring you will be touring Europe and North America and then you will play a couple of summer festivals. Are you taking some time off then, or are there plans for a second leg in Europe playing countries you don't visit now, or perhaps touring other continents too?
Tobbe: This brings us to future recording plans of Accept. It's been one year since Blood Of The Nations was recorded. Have you started writing stuff, or do you have a couple of ideas or riffs yet?
Tobbe: The latest album was recorded in England with well known producer Andy Sneap. Are you willing to continue your work on that location with him, or would you prefer a fresh start?
Wolf: Andy Sneap is more than a producer for us and the right question would be: can you ever imagine to record anything without him? And the answer is: no! Never! No, this is a match made in heaven! Of course anything can happen, but we will always be family. Mark Tornillo came into our life and set us free ad Andy Sneap set us on the right track. No one could have foreseen any of the developments of the past 20 month. Since May 2010 we played in living room size clubs, did 2 shows with AC/DC in front of 160 000 people, headlined Sonisphere Festivals and and and ... we are already setting up the next tours for 2012 - we are truly overwhelmed and more speechless than anything.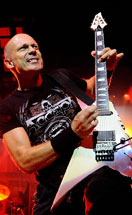 Tobbe: The guys in the band resides far from each other. Is that positive or negative for the survival of Accept?
Tobbe: Last question. If you could delete two songs from Accept's catalogue. Which two songs would that be, and why?
Wolf: Well, there are always songs you think - may be, this or that could have been different. But, I see every album as a final chapter of a period in my life. And each is very different. The time you lived in, the people around you, your own state of mind - all I can say is, that Accept has always been a band with high expectations and I am sure the worst critique anyway. But Peter and I always agreed that for us standing still is the worst. Not being able to experiment or follow wherever your talent takes you - would be devastating. Yes, there are obviously songs, who did not stand the test of time, but the moment they were written, they meant something, I believe. Actually with Blood Of The Nations everything was different. We were free as birds, we did not have and where not looking for a record deal - we had no one forcing us to do anything - we were like kids in a candy store and Andy picked that up right away and we all enjoyed every minute of it. It was a very happy time and the result reflects that, And nothing could have prepared us for that what as happening when everything was done. Nothing, So - for us this success is the most amazing thing in our entire life as a musician.
Tobbe: Thank you very much for sharing a bit of your time with us, Wolf.

See also: review of the album
Related links:

www.acceptworldwide.com
www.myspace.com/accepttheband