Interview conducted July 21 2010
Interview published July 29 2010
I have supported 3 Inches Of Blood ever since I first heard 'Advance And Vanquish'. I have seen them a number of times, but I have never been able to secure an official interview, that is until now.
Finally, while witnessing them perform at Mayhem last week, I was able to engage in a fun discussion with the all fatherly - Cam Pipes. We discussed their awesome videos, their metal maturity, and the trials and tribulations of these champions. I am so puzzled why these deadly sinners just do not get the recognition which they deserve. So, C'mon assassins of the night, fire up those razor blades, because here awaits thy doomspell.

MettleAngel: Hey Brother, I am so glad we are able to do this. I have tried to interview the band on a number of occasions, but something has always interfered.
MettleAngel: As you well know, I have been a strong supporter of the band for quite some time.
MettleAngel: Definitely! I had a digital promo of 'Here Waits Thy Doom', but I always wanted those bonus tracks. Now, with the re-release, you get the Japanese bonus track - "Wizard's Islands", as well as the Zeke song, and the Blue Öyster Cult and Bachman-Turner Overdrive covers.
MettleAngel: Indeed, all that made it well worth the purchase for me, and I always want to support the band. I am curious as to why you chose to cover Zeke? Kurt Kilfelt from Agent Steel and Holy Terror once played with them.
MettleAngel: Really, I am not too familiar with them, but if you consider that slow, they must have a strong punk edge to them. I always thought they were like the Hellacopters.
MettleAngel: It does, and it balances well with the '70s flair of BOC & BTO. I have told this to you in the past, but I will remind you. I was initially supposed to see the band when you toured with Satyricon. You were going to play Alrosa Villa, the night before Dimebag was shot.
MettleAngel: We ended up finally catching you on our fifth wedding anniversary when you played Annies in Cincinnati with Exodus and Crisis.
MettleAngel: Back then you still had Jamie Hooper screaming. He looked like a goof with his short hair and glasses.
MettleAngel: I am so glad that Justin Hagberg now does those semi-harsh vocal parts. I feel that it just fits better with the music. 3IOB have stepped up their game and become the embodiment of Classic Canadian Metal. Just like here in the US with Raleigh, North Carolina's Widow.
MettleAngel: They just reissued their debut with demos and videos. They call it ''Midnight Strikes Twice".
MettleAngel: They are good friends with us, and we just saw them at WOMIII, a festival most befitting a band like 3IOB.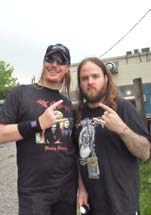 MettleAngel: I will tell the promoter. Next to Rob Zombie, and perhaps Five Finger Death Punch or Shadows Fall, you are easily the best band here today at Mayhem. Your set list was killer. I knew every song. Hell, you even played my favourite cut "Wykydtron"!
MettleAngel: I know I do, so I am glad you kept it in the set. I am sure that when you headline, you still play "Destroy The Orcs". My one friend brought his son who went wild when he heard "Assassins Of The Light".
MettleAngel: Which is why I am amazed that Roadrunner dropped the band, after you released the stellar 'Fire Up The Blades'.
Cam: Well at the time, bands like Slipknot opened the door for the label to take a chance on us. They just did not support us, as we had hoped.
MettleAngel: They did not drop DevilDriver, and look where they are today.
MettleAngel: Dude, you are way better. I choose your vocals over Dez Fafara any day.
MettleAngel: My one friend saw you for the first time today, and he felt you sounded like King Diamond.
MettleAngel: Personally, I feel you have more in common with Dan Beehler of Exciter. When we saw you at Bogarts with Hatebreed and Type O Negative (not knowing this would be our last encounter with Pete Steele), you were selling a CD-r version of the album at your merch booth. This is when I learned that you had been let go.
MettleAngel: You mean with your ex-drummer...
Cam: That and our frustration with Roadrunner, who made it real difficult for us to continue. They were not even sending us CDs to sell while we were on tour. We figured we could burn the album, throw on some rare tracks and sell it to our fans for a mere $5.
MettleAngel: I almost bought that, but then I am glad I did not, because I ended up buying those digital bonus tracks from iTunes. I really wanted to hear the song "In The Time of Job When Mammon Was a Yippie" which is a Lucifer's Friend cover. At the time, I did not have the 'Trial of Champions' (EP).
MettleAngel: Yes I did. I now have all your music, even some of the rare demo CDs which my friend bought, and then burned for me. The only thing I still do not have is a Tour shirt.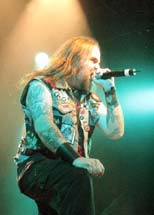 MettleAngel: Today, the CD was priority. Let us discuss the awesome video you made for "Battles And Brotherhood'.
MettleAngel: Really, it seems a bit high budget.
Cam: We lucked out. Our buddy Rick knew a bunch of people in the Vancouver film industry. Many of these crew are into metal, and dig the band, so they volunteered their talent.
MettleAngel: That is so cool, as the barbaric elements are well played out.
MettleAngel: I love the dual between the two chicks, so bloody!
Cam: Yeah, many people think it has a Viking vibe. This is because we ran into to a re-enactment group of Vikings who had the costumes, weapons, and well built men who really authenticate the video. We ultimately strove to not make it about any specific barbaric tribe. We are actually working on a new video for "Silent Killer".
MettleAngel: Will that also follow the same concept?
Cam: Oh no, we will use the same crew and have Rick direct again, but this time we are dealing with gangsters, like the subject matter of the song. We will act in in again, and there will be some aspect of performance, but we do not want to repeat ourselves.
MettleAngel: When will this video be available for viewing?
MettleAngel: I will want to see that. I am glad to see that the band was asked to play Rockstar, even if as usual you are the odd band out.
MettleAngel: Well you truly deserve it!
MettleAngel: Man that is not right!
Cam: Yeah, and even in America, we do not seem to be all that well known. We just keep working hard so that we can get back to Europe and play bigger venues. Century Media is given us that support that we found lacking with Roadrunner.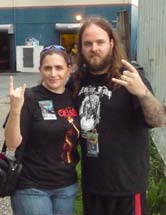 MettleAngel: That is great news. Dude you guys should definitely be playing Wacken and HOA!
MettleAngel: Man you will always have my support. I tell all my friends to check you out. I feel that you just keep getting tighter and better. I am honored to finally do an interview.
MettleAngel: Thanks again Cam, and keep those pipes clean so you can still scream. I know Jamie blew his voice, which is one of the reasons he had to leave.
MettleAngel: It is interesting chatting with you, because your speaking voice is a bit low, yet you sing so high pitched.
Cam: Yeah, people say that. Also, I am real tired, so I may not be enunciating too clearly.
MettleAngel: I understand you just fine. Now got get some of that grub they have for you in the catering tent. I will be in touch.
Related links: