WIN custom made guitar picks!
September contest is closed. The winner is Søren Andersen from Denmark.
Stay tuned for more giveaways in the future.
------------------------------
Send an e-mail with "Picks" written in the subject line to guitarpick@metalcovenant.com before noon September 30th CET and you might become the lucky owner of these 7 custome made guitar picks.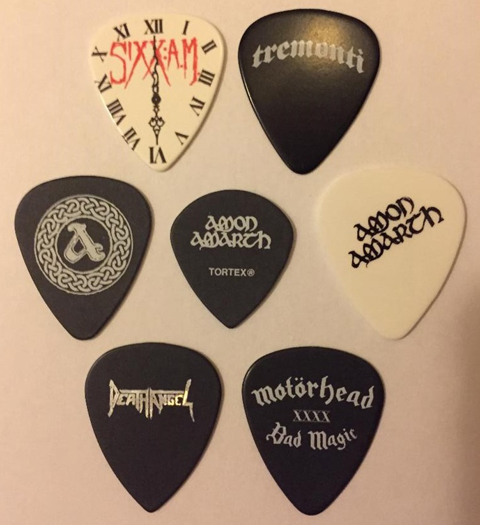 Contributions: Amon Amarth, Sixx:A.M., Rob Cavestany of Death Angel, Mark Tremonti of Alter Bridge and Darren Edwards at Warner Music.

Attention! One winner will get notified by e-mail and on the website. The picks will be sent to the winner in a standard envelope. We send world wide. If you're from a country where the postal service tends to "lose" stuff we cannot guarantee a safe delivery.

Previous winners:
September 2017 - Søren Andersen, Denmark.
August 2017 - Daniel Figueiredo, The Netherlands.
June 2017 - Daniel Kajava, Sweden.