WIN custom made guitar picks!
In order to become the lucky owner of these 12 guitar picks, you simply need to head over to our Facebook page (link below) and like and share the post about this contest.

Deadline: noon Sunday June 30 CET.
The winner will be drawn, announced and contacted for shipping details during the next day.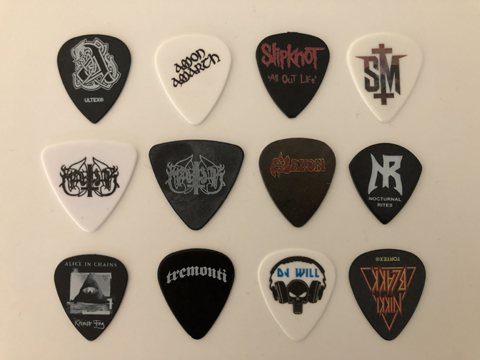 Thanks for contributing: Ted Lundström of Amon Amarth - Darren Edwards at Warner Music for the Slipknot, Alice In Chains, Saxon picks - Fredrik Mannberg of Nocturnal Rites - Mark Tremonti of Alter Bridge - Dave Silver of Savage Messiah - Morgan of Marduk - Olof at Skrikhult productions - DJ Will - Nikki Black.

Attention! One winner will get notified by e-mail, on Facebook and on the website. The picks will be sent to the winner in a standard envelope. We send world wide. If you're from a country where the postal service sometimes tends to "lose" stuff we cannot guarantee a safe delivery.

Previous winners:
May 2019 - Antonluigi Pecchia, Italy.
January 2019 - Tom Mallon, England.
November 2018 - Albert Lamoureux, Canada.
October 2018 - Nicky Withford-Eaton, England.
August 2018 - Billy Ser, Sweden.
July 2018 - Kevin Thiery, Belgium.
June 2018 - Thomas Stranaghan, Northern Ireland.
May 2018 - Paul Belcher, United Kingdom.
April 2018 - Per Aage Melby, Norway.
March 2018 - Fernando Menotti, Brazil.
February 2018 - Andrea Martucci, Italy.
September 2017 - Søren Andersen, Denmark.
August 2017 - Daniel Figueiredo, The Netherlands.
June 2017 - Daniel Kajava, Sweden.