House Of Lords - World Upside Down

*=Staff's pick

Mask Of Eternity
These Are The Times*
All The Way To Heaven*
Field Of Shattered Dreams*
I'm Free
All The Pieces Falling
Rock Bottom
Million Miles
Your Eyes
Ghost Of Time*
My Generation
S.O.S. In America*
World Upside Down
Genre
Melodic Hard Rock

James Christian

Vocals

Tracks
13

Jimi Bell

Guitar

Runningtime
57 Min.

-

Guitar

Label
Frontiers Records

Jeff Kent

Bass

Release
19 May 2006

B.J .Zampa

Drums

Country
USA

J. Kent/G. Giuffria

Keyboards

Similar artists
Harem Scarem, Pride Of Lions, Gotthard

I've always looked at House Of Lords as the brainchild of Greg Giuffria, a veteran in the game with a past in great bands such as Angel and his own band Giuffria. Not having followed the bands development after the great debut album from 1988 I was surprised to find that Giuffria only appears on the album credited with "keyboard production". This said, House Of Lords nowadays seems to be mostly run by James Christian who is the only member still around from the original line-up.
This might sound like a recipe for disaster but that as far from the truth. I would go as far as to claim that this is an even stronger album than the great self titled album. Christian is a great vocalist and his voice really carries the album. What makes it really good though is the consistent quality of the song writing. With the first couple of songs being as good as they are I was worried that the album would mimic a lot of newer albums in the genre and not be able to keep me interested all through the album but this one does that and more.
The album opens with an intro piece called Mask Of Eternity, not much to say about it though as it does its job getting the album going without being too long and taking up too much space. The first real song is also one of the absolute strongest, These Are The Times is the title and the chorus is to die for. Not only that it is a heavy guitar driven song and any fan of hard rock could probably nod along to it.
It also has quite a modern feel without losing the melodies and harmonies which is refreshing. Being that the following two songs are also two of the strongest on the album the opening is almost breathtaking. The followers are not as heavy though, instead they give us lovers of AOR what we want, beautiful melodies and all in all great songs.
I'm Free is probably the weakest song on the album but still it's not bad at all. The first couple of listens I thought the song was too different and made the album a bit confusing but having listened to it some more the diversity the song brings is a welcome one. A beautiful ballad follows, then a real rocker and you're starting to realise that your worries about losing interest are long gone.
I'm not going to go into each and every song on the album, best leave something to discover for all you listeners but I must point out the two gems Ghost Of Time and S.O.S. In America, two amazing songs that help push the album from a good one to a fantastic one.
Given what an amazing comeback this album is and the response that it looks like it has gotten so far this should really be a huge album. The band probably doesn't have as big a following as it once had but if people just hear this record a lot of the old fans will come back and I guarantee that quite a few new ones will join them. And rightly so, fans of melodic rock and AOR should really check this one out, I think you will love it!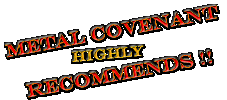 See also review of: Indestructible

Production

Vocals

Compositions

Summary





9,5 chalices of 10 - Magnus
Related links: