Iron Fire - Thunderstorm

*=Staff's pick

The Final Crusade*
When The Heroes Fall
Rise Of The Rainbow*
Metal Victory
Thunderstorm*
Behind The Mirror
Warriors Of Steel
The Battle Of Freedom*
Glory To The King*
Angel Of Light
Until The End
Riding Free*
Genre
Power Metal

Martin Steene

Vocals

Tracks
12

Kristian Hegelund Martinsen

Guitar

Runningtime
58 Min.

Kristian "Iver" Iversen

Guitar

Label
Noise Records

Jakob Lykkebo

Bass

Release
20 June 2000

Gunnar Olsen

Drums

Country
Denmark

-

Keyboards

Similar artists
Hammerfall, Running Wild, Edguy

Denmark doesn't have that many bands on the international world metal arena besides Pretty Maids and Manticora but these Danes really put their country on the map and beat the shit out of their countrymens' previous releases. Iron Fire's Thunderstorm is one of the albums you just gotta have if you're into melodic power metal.
Their music is not really just Hammerfall- or Running Wild-ish but that's perhaps still the best way to describe it. They have touches of both, but without overall sounding like neither, and the similarities are mostly instrument related. The vocals on the other hand are very unique and Steene's voice doesn't really remind me of anything I've heard before. It's located somewhere in the middle ranges of the scale, but visits in the more high-pitch area aren't that rare.
So, great vocals and above all guitars. Then what? Killer beginnings of course and verses and refrains that are very catchy and instantly stick in your head. Just listen to tracks like The Final Crusade, Rise of the Rainbow and Glory to the King and you'll know what I mean. All the tracks except the ballad could easily qualify as real killers but those mentioned perhaps stand out a bit more than the rest.
The album consists of 12 tracks and most of them are in the double-keg uptempo department. It's still very easy to distinguish one song from the next because although they are similar in pace and speed, they still have great individual trademarks and make the album feel very genuine and varied. Overall this album just has as good as everything you crave and the total impression of it is absolutely something out of the ordinary. It's very hard to describe in words, but Thunderstorm is just one of those rare albums that really have it all. Great atmosphere, outstanding songs, excellent vocals and as good as all great fittings a kick-ass metalrelease should have. Being produced by Tommy Hansen doesn't really make matters worse either.
The only real flaws on the album are the ballad and that one could wish for more in the solo area that lacks at least some more swirling guitar tones. Otherwise I'd say this is as impeccable as it can get and I also already want to appoint this release as one of the true classics in the metal-history. It's one of those albums that instantly appeals to you after the first notes and one that has such an atmosphere and individuality that makes it so damn good and rememberkable. So let the CD come into your possession, the Thunderstorm roar out of your speakers and the muscles in your neck are in for some serious workout! Vidunderlig guys!!!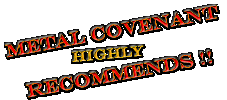 See also review of: To The Grave , Blade Of Triumph , Revenge
Production

Vocals

Compositions

Summary





9 chalices of 10 - Mat
Related links: