Machine Head - Through The Ashes Of Empires

*=Staff's pick

Imperium*
Bite The Bullet*
Left Unfinished
Elegy
In The Presence Of My Enemies*
Days Turn Blue To Gray*
Vim*
All Falls Down
Wipe The Tears
Descend The Shades Of Night*
Genre
Metal

Robert Flynn

Vocals

Tracks
10

Robert Flynn

Guitar

Runningtime
54 Min.

Phil Demmel

Guitar

Label
Roadrunner Records

Adam Duce

Bass

Release
29 Oct. 2003

Dave McClain

Drums

Country
USA

-

Keyboards

Similar artists
---

Machine Head themselves says that this album marks a new start for them and I have no problems with signing under to that fact. I can only say that this band is back for real, with one foot in the area of the totally brilliant debut Burn My Eyes (1994) and with the other foot moving forward this is precisely the album I was hoping for.
Since their debut they have done three albums that made me feel like Machine Head was a band that still lived on the name they made for themselves on day one. Although the albums have been good but not much more, too rough and jagged has been the problem like they haven't been really thought through. They have simply been to shallow without any real depth and the one prior to Through The Ashes Of Empires, Supercharger (2001) felt to polished as well as it didn't feel sincere in my ears.
But now things seems to have been falling in to the right places again, as you starts to listen to the calm opening of the first track Imperium you sense that something great is gonna come your way, and then it hits you like a ton of bricks. I get the same kind of vibe as I get from listening to the track Davidian from Burn My Eyes and the adrenaline level starts to rise and pound in my veins like a rushing freight-train, this is just the thing that I have been waiting for.
The album gives you ten tracks of aggressive Machine Head songs with the significant sound that makes you immediately aware of which band you are listening to, not least with the screaming guitar sounds. And talking about guitars, new to the band is mainman Rob Flynn's old bandmate from Vio-lence, Phil Demmel and that turned out to be a great contribution. The guitar playing has been improved and intensified with lots of thrashy-guitar parts in the music making it close to perfection in my book, this is exactly the music that I want to hear at the moment.
It looks like Rob Flynn and the guys in Machine Head has managed to steer back on to the right track again, back to the old aggressive bashing while keeping a fresh profile that makes the music feel new and fresh, you can say it is a great mix of old and new. It feels like they have stopped to think about what they really want to do with the band before they started to work on this album, there are no loose ends with Through The Ashes Of Empires and it is pure and honest, just the way you want an album to be.
If you look over the past years and compares with the later releases everything has been improved at this point, their strength has returned and the songwriting has become way much better, without exaggerating I can easily say that all of the tracks can stand for themselves, not least the killer opener Imperium or the emotional ending with Descend The Shades Of Night, while you in between gets your urge for powerful and aggressive thrashy music satisfied.
All that is left for me to say is: welcome back, Machine Head - I've missed you.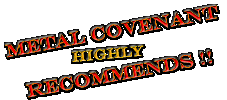 See also review of: Catharsis , Bloodstone & Diamonds , Machine Fucking Head Live , Unto The Locust , The Blackening
Production

Vocals

Compositions

Summary





9 chalices of 10 - Thomas
Related links: