| | |
| --- | --- |
| Bombus - The Poet And The Parrot | Published September 12 2013 |

*=Staff's pick

Enter The Night*
The Poet And The Parrot*
Liars
A Safe Passage
Apparatus
Let Her Die*
Master The Reality*
Into The Fire
Genre
Heavy Metal/Hard Rock

F. Berglund/M. Jacobsson

Vocals

Tracks
8

Fredrik Berglund

Guitar

Running time
41 Min.

Matthias Jacobsson

Guitar

Label
Century Media

Jonas Rydberg

Bass

Release
10 September 2013

Peter Asp

Drums

Country
Sweden

-

Keyboard

Producer
---
Similar artists
---

Gothenburg's finest Bombus released their self-titled debut album three years ago. Since then, there's been a lot of touring and they've been extensively acclaimed by Fenriz from Darkthrone. However, they're still a relatively unknown band - something that will change with the release of their new album, The Poet And The Parrot, if there's any logic and reason in the world.
It's hard to describe Bombus' sound because there really is nothing like it. It's a lot of rock 'n' roll and heavy metal, spiced with stoner rock, thrash metal and sludge - imagine a perfect fusion between Motörhead, Kyuss, Melvins and early Metallica. Or better yet, just listen to the album yourself and you'll understand. The first thirty seconds of Enter The Night sums up everything I've said very nicely - that explosive drum roll followed by full speed, dirty rock 'n' roll deliciousness and Feffe and Matte's well-synchronized roaring.
The second song is the title track as well as the longest song on the album at roughly seven and a half minutes. It's also one of the best songs of the album, with an intro that makes me think of Metallica's Orion. What's really remarkable is how well-constructed the songs are - all the different parts of the songs seem to fit in perfectly. A couple of the songs, A Safe Passage and Apparatus, have been released for a while, in singles, but in the whole of the album they somehow sound even better - A Safe Passage with its almost black metal-like melodies, and Apparatus with its adrenaline-pumping Slayer vibes.
Let Her Die apparently is about a relative and listening to the harsh lyrics makes it pretty obvious that it's not really a beloved one, which gives the song an additional impact. At this point, I'm surprised how the album can be so consequently good. Every song seems to add something to the big picture and I feel like I could listen to the album on repeat without ever growing tired of it. And the quality stays high during the last two songs as well - Master The Reality boasting some of the best guitar work on the album, and Into The Fire which just ties everything together in a grandiose climax.
The Poet And The Parrot is an absolutely unique album which shows the width of Bombus' music while sounding more coherent than the debut album which was very good indeed but seemed to go in maybe a little too many directions. As I said, this album really should put Bombus on the map; they have a completely unique sound and seem incapable of writing weak songs. I see no reason to give this anything other than full score. It's that good, trust me.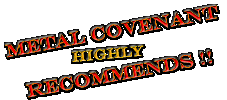 See also review of: Repeat Until Death

Performance

Originality

Production

Vocals

Songwriting

Summary





10 chalices of 10 - Bjorn