Avantasia - The Metal Opera Part I

*=Staff's pick

Prelude (intro)
Reach Out For The Light*
Serpents In Paradise*
Malleus Maleficarum
Breaking Away*
Farewell
The Glory Of Rome
In Nomine PatrisAvantasia*
A New Dimension
Inside
Sign Of The Cross*
The Tower*
Genre
Power Metal

Tobias Sammet

Vocals

Tracks
10

Henjo Richter

Guitar

Runningtime
59 Min.

-

Guitar

Label
AFM Records

Markus Grosskopf

Bass

Release
22 Jan. 2001

Alex Holzwarth

Drums

Country
Germany

Tobias Sammet

Keyboards

Similar artists
Edguy, Freedom Call, Heavenly, Helloween

Tobias Sammet's (Edguy) solo-project Avantasia is really something special. I continue to be positively surprised by the talent of this super talent youngster from Germany. And on this side project he has gathered a magnificent group of world class musicians. David DeFeis, Rob Rock, André Matos, Kai Hansen and Timo Tolkki are among these and already you can begin to imagine the result. The sound doesn't differ much from that of Edguy, which is to be expected, since it's Tobias Sammet we're talking about here and the only difference is the contribution of the guest musicians. But man, what a contribution! This extra spice makes Avantasia even better than Edguy in some aspects and I must admit that I really love it. The album has both double bass drums tracks and more mid- tempo ones in a very good mixture.
The standout tracks are especially the great album opener Reach out for the Light and the following Serpents on the way to Paradise which contains some excellent singing by David DeFeis. Other really cool songs are Breaking Away and Avantasia, which is a more traditional metal song and one of the best tracks of the album. The Metal Opera finishes with probably the best song Tobias Sammet has ever made and that's the ten minutes awesome closer The Tower.
The album also contains a ballad, Farewell, and in this case I don't mind this fact one bit. It's a really good song with some very beautiful female singing by Sharon Den Adel and it's also got a very solemn intro that easily could fit as a movie- theme. Tobias Sammet continues to impress me and Avantasia is an absolute must if you're into melodic power metal. The album is very well produced and with this formidable cast of course a very compatible one. There's also a Metal Opera Part II from Avantasia coming up in a near future so there's much more in store for us metalfreaks and I'm really looking forward to that. So my advice here is that you reach out for the light and Avantasia 'cause releases like this are definitely not worth missing out on.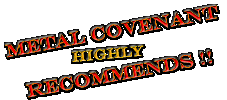 See also review of: Ghostlights , The Mystery Of Time , The Scarecrow , The Metal Opera Pt.2

Production

Vocals

Compositions

Summary





9 chalices of 10 - Mat
Related links: