Dark Moor - The Gates Of Oblivion

*=Staff's pick

In the Heart of Stone*
A New World*
The Gates of Oblivion
Nevermore*
Starsmaker(Elbereth)*
Mist in the Twilight
By the Strange Path of Destiny*
The Night of the Age*
Your Symphony
The Citadel of the Light
A Truth for Me*
Dies Irae(Amadeus)
Genre
Power Metal

Elisa C. Martin

Vocals

Tracks
12

Enrik Garcia

Guitar

Runningtime
56 Min.

Albert Maroto

Guitar

Label
Arise Records

Anan Kaddouri

Bass

Release
18 March 2002

Jorge Saez

Drums

Country
Spain

Roberto Peña de Camus

Keyboards

Similar artists
---

Absolutely amazing! The Gates Of Oblivion - Great title from an equally great band. Spanish Dark Moor with divine lead singer Elisa C. Martin has once again totally swept me away. I thought their previous The Hall of the Olden Dreams was absolutely fantastic but The Gates of Oblivion is even greater and one of THE releases this year.
The keywords in Dark Moor's music are "happiness and joy". You feel enlightened and in a very good mood after a session with a Dark Mooralbum, and this is absolutely no exception -in fact it's quite the contrary. The have really overdone themselves this time, and bring us a vitamin-injection that easily could awake the dead. After the first two or so listening-sessions I wasn't that impressed though, I just established that it was great, but this is an album you really have to listen to a few times extra before you realise it's awesome kick-ass-potential. But when that happens it's simply described as a giant volcano-eruption and to get to write a review like this is just an incredible feeling.
I can't say that much has changed in production or sound but who cares when the songs simply blow you away. Elisa's voice is beyond words to describe and the unspeakable Dark Moor melodies surpass as good as everything they've ever done before. Outstanding intros with very often-combined keys and guitars are good enough to make every other band wish they'd done the same. The verses are so great and melodic it's very hard to comprehend. You have to listen for yourselves. And to spice up things even further every track contains swirling riffs, harpsicord/keyboard-duels with the leadguitar, solos that should make Kai Hansen himself raise an eyebrow or two in admiration and appreciation.
It's not just the intro-melody over and over again but two or sometimes even three killer ones between verse and bridge, after choruses and so on in almost every track. The guitarists Garcia and Maroto must be recognized as true geniuses, and have managed to produce one catchy line or harmonysolo after the other. And despite that all these are outstanding metal-ingredients I haven't mentioned the perhaps best part yet - the choruses. Catchy as hell with awesome sing-along touches over them and just brimming with pompousness and majestic choirs. Dark Moor doesn't exactly save up on energy either, but instead focuses on full speed ahead and delivers mercilessly one speed-rocket after another.
The album kicks off with the one of the best songs, In the Heart of the Stone. A hell of an way to begin with and of course a killer verse-melody and a chorus that really sticks in your head. And then we have the absolute highlight- A New World. On this one all the great things about the first one are taken yet to another level. This track is in my eyes probably one of the best, intense and melodic powermetal songs that has ever been written!
The two songs following the instrumental title-track, Nevermore and Starsmaker (Elbereth) are somewhat slower than the two first two but slowly builds up in tempo and speed and of course all the your metal-needs are fulfilled here too. Then we can relax for a minute during the instrumental Mist in the Twilight and then we've reached the amazing By the Strange Path of Destiny. It starts off with an outstanding keys/guitar-intro followed by outstanding riffing and a very solemn verse. But don't worry 'cause this one too increases in power, force and speed and before it's over one's got a good portion of double bass drums that's for sure.
The remaining 5 songs then consist of one instrumental track, one ballad (Your Symphony) and three fast ones. The 11- minute album-closer Dies Irae (Amadeus) with its opera-influenced majestic and pompous Latin chorus is also worth mentioning as one of the many highlights on The Gates of Oblivion. So after now perhaps 6 or 7 rotations I'm desperately trying to find just one single reason to why this shouldn't be a full 10 out of 10 but I just can't. It would be the worst kind of blasphemy if I did and an insult to the True Spirit of Metal. Damn it, I even like the ballad (!!!) 'cause there I can revel in Elisa's heaven-sent vocals even more.
The Gates of Oblivion has got it all and although other critics may think that Dark Moor sounds exactly like before and haven't developed I couldn't disagree more. The band's found their individual sound and style and on this metal-solid foundation they've composed something that's worth the highest mark possible, that is, an utter masterpiece! This is the way it's supposed to sound! Viva Dark Moor! So what are you waiting for? The album's up for sale… Run damn you… :)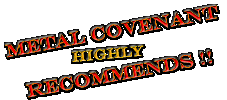 See also review of: Ars Musica , Tarot , Beyond The Sea , The Hall Of The Olden Dreams , Dark Moor

Production

Vocals

Compositions

Summary





10 chalices of 10 - Mat
Related links: