| | |
| --- | --- |
| Barren Earth - The Devil's Resolve | Published March 28 2012 |

*=Staff's pick

Passing Of The Crimson Shadows*
The Rains Begin*
Vintage Warlords
As It Is Written
The Dead Exiles*
Oriental Pyre
White Fields
Where All Stories End*
Genre
Prog./Melodic Death Metal

Miko Kotamäki

Vocals

Tracks
8

Sami Yli-Sirniö

Guitar

Running time
46 Min.

Janne Perttilä

Guitar

Label
Peaceville

Olli-Pekka Laine

Bass

Release
07 March 2012

Marko Tarvonen

Drums

Country
Finland

Kasper Mårtenson

Keyboard

Producer
Jukka Varmo
Similar artists
Amorphis, Opeth

With members from several well-known acts (Amorphis, Swallow The Sun, Moonsorrow to name a few) Finnish Barren Earth has been hailed as a supergroup. More than me that has grown tired of that moniker? Thought so. What I'm not tired of, is the fact that these guys are killer musicians. Debut album Curse Of The Red River was epically good, and I've been looking forward to more music from this kick ass-ensemble.
The Devil's Resolve doesn't disappoint - in fact it supersedes the first record. Opener Passing Of The Crimson Shadows is a humdinger of a song that during its seven minutes duration amply showcases what Barren Earth's music is about: melancholy, drive, stupendous growling and beautiful cleansinging. Above all the music is just so beautiful - a fact that runs like a red line through the album. Just listen to The Rains Begin and try not to close your eyes and just drift away. The first listening to this song made me bawl my eyes out at 2:55 when Kasper Mårtenson unleashes the Hammond Organ with such feeling. There you go - strong evidence of just how good this record is.
And it just goes on in this fashion. Every goddamned song is just so good. Monumental The Dead Exiles with its symphonic more than epic intro takes my breath away, beautifully groovy Oriental Pyre and solemn closer Where All Stories End make the hair on my arms stand every time I listen to them. I'm really forced to bring out the cliché all killer no filler to The Devil's Resolve. I only have one objection - the drums could have sounded a bit fuller so as to fit in better with the overall sound. But this is a minor objection, and something that cannot deny that The Devil's Resolve is a magically great album.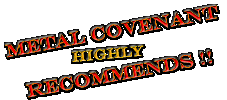 See also review of: On Lonely Towers

Performance

Originality

Production

Vocals

Songwriting

Summary





9 chalices of 10 - Martin
| | |
| --- | --- |
| Related links: | |