Kamelot - The Black Halo

*=Staff's pick

March Of Mephisto*
When The Lights Are Down*
The Haunting (Somewhere In Time)*
Soul Society
Interlude 1:dei Gratia
Abandoned
This Pain
Moonlight
Interlude 2:un Assassinio Molto Si
The Black Halo*
Nothing Ever Dies*
Memento Mori
Interlude 3:twelve Tolls For A New
Serenade*
Genre
Power/Progressive Metal

Roy Khan

Vocals

Tracks
14

Thomas Youngblood

Guitar

Runningtime
58 Min.

-

Guitar

Label
Steamhammer

Glen Barry

Bass

Release
14 March 2005

Casey Grillo

Drums

Country
USA

-

Keyboards

Similar artists
Moonlight Agony

Kamelot are back with their seventh album, and also the follow up to the critically acclaimed Epica (2003). The Black Halo feels like a natural follower to Epica, just like that was a natural follower to the one before that. As you can see there is a red thread running along the history of Kamelot with a continuos evolution while remaining true to their unique sound. This album is no exception and Kamelot is creating music that is epic as always, and this time even more epic. And the most important factor in form of a constant flow in their music is once again present, and one wonders how the hell they manage to keep such a flow with their music? It is absolutely stunning if you ask me.
The Black Halo is darker, heavier and more progressive than earlier, still with good melodies, but it feels like they are moving away from the power metal and end up somewhere between slightly progressive and fast and cheerful, and even though it is more varied and more orchestrated than earlier, the core still remains intact, and it is obvious that they have put down a great amount of soul in the work with this album.
The first track March Of Mephisto offers a bit of surprise when Shagrath from Dimmu Borgir appears as a guest in this heavy and mid-tempo track with a catchy chorus in true Kamelot style. And while Shagrath growls a little in the background another guest sets his mark on this one, as Jens Johansson (Stratovarius) throws in a bit of keys in his typical way. He also appears in When The Lights Are Down, that has a more fast paced and cheerful tempo, as we know the band, with a classic up-tempo beat chorus and a nice interaction between Jens keyboard and the guitar of Youngblood.
The Haunting (Somewhere In Time) is a powerful track with a restrained pace and female backing vocals, and it is one of those that just lets you drift away, nothing remarkable and no song that stands out, but nevertheless it captivates you. Simone Simons (Epica) does not appear too much on this one, but surely enough to lift the song. And here we are three songs into the album and I'm all stoked so far, but I will not go through all of the songs because then there will be nothing left for you to discover.
Nevertheless there are some more tracks that have to be mentioned. Kamelot go on to deliver a great deal of progressive power metal in a very good way and the melodies and excellent guitar works in Nothing Ever Dies ought to be mentioned, some serious riffing there. The epic track on the already epic album is Memento Mori, which is the most majestic of them all with its nine minutes. It Starting as a ballad but is leading on to a catchy Kamelot style chorus and Shagrath shows up briefly once again and is joined by a female guest in a duet.
The only downside on the album is the track Abandoned that is a slow and a bit boring ballad, very delicate though, but not that good and not even with a refrain that gets it going. The three small interludes are also a bit disturbing and feel out of place even if they are there to move the story forward, but to me they don't add anything to my listening pleasure, they only prevent the next "real" track to get started. And if Jens Johansson would have participated in more than only the two first tracks, it would have made great even greater. And does Roy Khan have an even wider range to his voice? He has a great voice that is mighty powerful, and further he sings with a great dedication that gives a one helluva credibility to complete the full picture of Kamelot.
The Black Halo is produced by Sacha Paeth, which does a great job as always. He has added the same sense of ambience as on Aina, meaning something that is grand and epic, and you can also make comparisons with some of the guitar sounds on both albums. It can easily become too much of the good stuff as it is now, grand and epic sure, but sometimes less is more, but they get away with it this time, but perhaps it is something to take under consideration to their next album, because if they take this development further it will become too much to take in. But for now this is probably the best Kamelot album up to date. To go in the direction of becoming more progressive really suits Kamelot.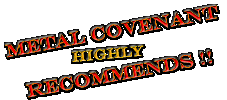 See also review of: Haven , Silverthorn , Epica , Karma

Production

Vocals

Compositions

Summary





9 chalices of 10 - Thomas
Related links: