Disturbed - Ten Thousand Fists

*=Staff's pick

10,000 Fists*
Just Stop
Guarded*
Deify
Stricken*
I'm Alive*
Son Of A Plunder
Overburdened
Decadance
Forgiven
Land Of Confusion*
Sacred Life*
Pain Redefined
Avarice
Genre
Heavy Metal

David Draiman

Vocals

Tracks
14

Dan Donegan

Guitar

Runningtime
56 Min.

-

Guitar

Label
Reprise

John Moyer

Bass

Release
26 Sept. 2005

Mike Wengren

Drums

Country
USA

-

Keyboards

Similar artists
Creed

If this album won't be the definite break-through for Disturbed I don't know what the world has come to. Their first album The Sickness was good and brought some attention to the band, while with their second album Believe they had a stronger more even album that reached out to a bigger audience (including me), not least with the track Prayer. And with Ten Thousand Fists they have an even stronger album that ought to appeal to old fans as well as it has the ability to spread far and wide outside the metal core. And no, I refuse to label Disturbed as a nu-metal band, if there isn't a suitable genre stop label bands as nu-metal. Disturbed play what I would like to call Modern American Metal, that is not a genre and nor am I trying to create a new one but that is the best way to describe Disturbed in a short amount of words.
Disturbed has an ability to make an album that has a splendid balance. So also Ten Thousand Fists has a perfect blend between aggressive and soft as well as harsh and emotional. Disturbed never become too hard and aggressive or too soft for that matter as they always manage to keep somewhere in-between making perfect harmonies. Their last album Believe (2002) was an even album and that was where one of their strengths lie and believe it or not but this album with all the fists is more even, and the standard of the songs is amazingly high. The songs are once again cast in the same mold typical for Disturbed, but is despite that not monotonous and no song feels like a filler, all of them have their own strength.
The opening title track is powerful as hell and Disturbed show their ability to deliver crunching riffs along with a great sense of melody right from the start. The album has a great production with a thick and clear sound that is perfect for their kind of music. There are a lot of highlights to be found on this album including the track Guarded that is going forward as it is driven by the heavy riffs or the track Stricken where the music and vocals are delivered with a great amount of strength as it was forced out of them. The songs are not of the longest kind but they are explosive, melodic, heavy and often with a catchy hook, and even if the riffs are in perfect place there could have been some more guitar solos, but then I am not sure that those would add anything anyway, so why mend something that isn't broken?
With Ten Thousand Fists Disturbed once again displays a power of strength and songs that after a couple of listenings stubbornly refuse to leave your mind. They also have thrown in a cover track among the other pearls, Land Of Confusion originally done by Genesis. And it is a tasteful and intelligent version done with a great deal of respect, still staying true to the original feeling of the song they have made it sound very much Disturbed so that is fits perfectly among the rest of the songs on the album.
Likenesses can be made with contemporary bands like Nickelback, Creed, Alter Bridge and the likes there of, bands that I like to call Modern American Hardrock as well as there traces of the fueled aggression from Machine Head, Pantera and thrash metal in general. Disturbed comes out as a very tight sounding band but it is vocalist David Draiman that lifts the band and really puts them on the top. He has a melodic voice that is full of emotion and whether he is singing with aggression or with a calmer voice he always gets the message through, he is what keeps the perfect balance with Disturbed.
Truth be told, Disturbed doesn't play the most difficult and exciting metal of today but it works in its simplicity with a little aggression, catchy melodies and emotions. And with the refrains that Disturbed pour out, that step into your head and refuses to get out, well then it is simply damn good. This is going to be a strong candidate when time comes to summon the album of the year for 2005.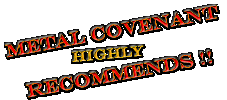 See also review of: Immortalized , The Lost Children

Production

Vocals

Compositions

Summary





9,5 chalices of 10 - Thomas
Related links: