| | |
| --- | --- |
| Sons Of Liberty - Spirit Of The Times | Published December 28 2011 |

*=Staff's pick

Alive*
Full Spectrum Dominance*
Molon Labe
Mind Control
Spirit Of The Times*
Genre
Heavy Metal

Jon Schaffer

Vocals

Tracks
5

Jon Schaffer

Guitar

Running time
23 Min.

Jim Morris

Guitar

Label
iTunes

Ruben Drake

Bass

Release
22 December 2011

(programmed)

Drums

Country
USA

-

Keyboard

Producer
Jon Schaffer
Similar artists
Iced Earth

Iced Earth's main man Jon Schaffer has written another chapter on his struggle for the free human spirit. This five-track EP is released on iTunes only and no record company is involved yet and therefore we have to wait for its proper release, if there ever going to be one. With this project Jon wants to spread the word and encourages people to make copies and pass them out to as many as they can. Jon states that the drums are programmed to keep the costs down as there are costs for the recording process even for an iTunes release. He also once said that Iced Earth is his job, but Sons Of Liberty is his passion.
The debut album Brush-fires Of The Mind is one of the best work Jon has ever created, so my anticipations were high for this EP and when listening to it for the very first time I felt like being hit by a truck. This is heavy metal at its best and Jon is singing with such passion that you can feel that he believe in his words and his cause.
Due to his obligations with Iced Earth, Jon only had time to record five songs, so four heavy metal tracks and a ballad is what we get, the ballad being the title track, Spirit Of The Times. All with cool and heavy riffs, great melodies and sung by a voice that can make a grown man cry. Jon is a great singer and also a magnificent guitar player and even if you can hear parts from his main band, he always finds a way to create new riffs to dazzle you. It's hard to pick the best song from this release, but after listening to it several times, I will go for Full Spectrum Dominance, even if all songs blows my mind.
Whether you agree or disagree with his political aspects, I encourage everyone to log on to iTunes and get a copy of this fantastic piece of work, because this is without a single ounce of doubt the best music of 2011.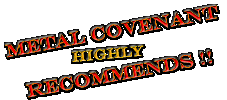 Performance

Originality

Production

Vocals

Songwriting

Summary





10 chalices of 10 - Tobbe