| | |
| --- | --- |
| Holy Grail - Ride The Void | Published January 07 2013 |

*=Staff's pick

Archeus
Bestia Triumphans
Dark Passenger
Bleeding Stone
Ride The Void*
Too Decayed To Wait
Crosswinds
Take It To The Grave
Sleep Of Virtue
Silence The Scream*
The Great Artifice*
Wake Me When It's Over
Rains Of Sorrow*
Genre
Heavy Metal

James-Paul Luna

Vocals

Tracks
13

Eli Santana

Guitar

Running time
53 Min.

Alex Lee

Guitar

Label
Nuclear Blast

Blake Mount

Bass

Release
18 January 2013

Tyler Meahl

Drums

Country
USA

-

Keyboard

Producer
Matt Hyde
Similar artists
---

Californian metallers Holy Grail's sophomore release. I had never heard one single tone from this band before I took on Ride The Void a couple of weeks ago, and what a pleasant surprise this blasting piece of art was. New, fresh and powerful heavy metal with massive European influences. The production is a bit well polished, like with many American releases, but it fits alright though and gives the songs a kick ass sound. Even if it has nothing to do with the actual music, I also must say that I love the album's front cover.
Song after song is stunning. All from the intro, Archeus, into ripping Bestia Triumphans to the last tones of the album's sole ballad Rains Of Sorrow. Almost every song totally rocks and the closer you get to the end, the better it seem to get. I've listened to this album over and over again, and will continue to do so long after I post this review. The vocal and the guitar melodies and harmonies are captivating and contagious. I won't go through the album song by song. You just have to take my word for it and if you love heavy metal, I highly recommend you to check out this awesome record.
Somewhat off topic, but if you're familiar with Swedish band Wolf and their singer Niklas Stålvind, I encourage you to listen to the bridge in Too Decayed To Wait or the first and the last thirty seconds of Crosswinds and listen to the similarities in the vocalists' voices, and if you're familiar with Welsh quartet Bullet For My Valentine, check out track eleven, The Great Artifice. In the end the resemblances with these two bands stay about there though.
I'm writing these words on January 3rd, but when I sum 2013 up, I'm totally certain that this album will enter my top 10 list in December. Now I must get my hands on their debut album, Crisis Of Utopia, released in 2010, to check out if Ride The Void is a one-off lucky strike. 9 mighty chalices to Holy Grail's new release.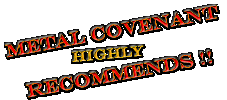 Performance

Originality

Production

Vocals

Songwriting

Summary





9 chalices of 10 - Tobbe