| | |
| --- | --- |
| Bombus - Repeat Until Death | Published February 21 2016 |

*=Staff's pick

Eyes On The Price*
Rust*
Deadweight
Horde Of Flies
I Call You Over (Hairy Teeth, Pt. II)*
Repeat Until Death*
Shake Them For What They're Worth
You The Man
Get Your Cuts
Genre
Heavy/Stoner Metal

Feffe/Matte

Vocals

Tracks
9

Feffe

Guitar

Running time
34 Min.

Matte

Guitar

Label
Century Media

Ola

Bass

Release
February 26, 2016

Peter

Drums

Country
Sweden

-

Keyboard

Producer
-
Similar artists
---

With their third record I think that the Swedish metallers Bombus really point out that they have entered the world of heavy music with the purpose of staying there for a long period of time. Repeat Until Death totally indicates that their last effort, The Poet And The Parrot, wasn't just a fluke and I don't believe that I'm putting too much at stake when I predict that these guys might have a pretty bright future coming to them.
This unit has a remarkable talent to put a tangible drive and an atmospheric groove to the songs and the sonically raw and dirty appearance adds a cool flavor to the entire record. Without sounding too retro and without the intention of coming out as a nostalgia act, they are, in some way, still able to make the songs seem to kind of come straight out of an older era of heavy music. I think that a distinctive bass play, which certainly is not something that should be taken for granted in this day and age, definitely contributes to the whole procedure too.
The guitar playing puts a rough feeling to the overall experience and even if the vocal performance isn't by definition technically perfected, it is yet another example of stuff that's decidedly making this piece of work to a really awesome time. The rather short playing time of 34 minutes frequently makes me wanna listen to this deal over and over again and I just wish that more bands would ultimately start to realize that quite regularly less is more in regards to creating great records.
The biggest reason to why I believe that this is such a great album is of course the extraordinary quality of the songs and one thing that always clarify to me personally when a record is amazing is that every time I listen to it I keep changing my decision on which the greatest songs are.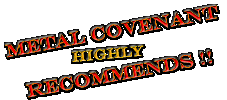 See also review of: The Poet And The Parrot


See also: interview with Feffe/Matte

Performance

Originality

Production

Vocals

Songwriting

Summary





9 chalices of 10 - Tobbe