| | |
| --- | --- |
| Brain Drill - Quantum Catastrophe | Published May 11 2010 |

*=Staff's pick

Obliteration Untold
Beyond Bludgeoned*
Awaiting Imminent Destruction
Nemesis Of Neglect
Entity Of Extinction
Mercy To None
Monumental Failure*
Quantum Catastrophe*
Genre
Death Metal

Steve Rathjen

Vocals

Tracks
8

Dylan Ruskin

Guitar

Runningtime
42 Min.

-

Guitar

Label
Metal Blade

Ivan Munguia

Bass

Release
07 May 2010

Ron Casey

Drums

Country
USA

-

Keyboard

Similar artists
Decapitated, The Faceless, Carnifex

For those who has been worried that Brain Drill had gotten soft since the debut "Apocalyptic Feasting" let me reassure you that this band still has the aggression cranked up to the max. "Quantum Catastrophe" is nothing but a pure joy for us who enjoy technical death metal with a big spoon of grind thrown into the mix.
The sonic onslaught spews forth like a vicious river of lava and, just like the debut, takes a while to ingest and appreciate. As was the fact on "Apocalyptic Feasting" the technical skill of each individual musician is staggering. Ron Casey is the man responsible for one of the most commanding efforts behind a drum kit this year - which is absolutely essential as the kind of music Brain Drill plays either stands or falls with a kick ass drummer.
The stringwork of Dylan Ruskin and Ivan Munguia is equally impressive, and the duo displays such an insane level of skill that my jaw simply drops to the floor and stays firmly planted during the entire album. When you on top of this get Steve Rathjen, who screams/growls with such ferocity to match the music to a tee, you get a performance of the highest quality.
What Brain Drill has improved from the debut is the production. Especially the drums sound so much better from the supertriggered sound that we got on "Apocalyptic Feasting" and while the kickdrums still have that "click"-sound to them the rest of the kit sound much more like, well, drums. The overall sound is fatter - especially the guitar sounds great - and the one objection I have is that I would have liked to hear the bass just a little bit more.
If you have heard "Apocalyptic Feasting" then you'll feel right at home songwise, but I feel that the songs on "Quantum Catastrophe" are more complete than just being mere displays of technical skills. Monumental Failure has been a favourite ever since I discovered the song on YouTube, but there is so much more to this album to rejoice about than just this one song. The title track is, for example, a very long pure feast for the ears, clocking in at 16 minutes!
It's such a joy to hear a Brain Drill that has improved so much on a songwriting level that you as a listener get treated to a very good album from a bunch of really talented musicians. If you're into extreme technical death metal, "Quantum Catastrophe" is an album well worth checking out.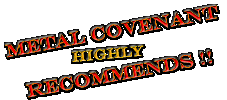 See also: interview with Ivan Munguia

Performance

Originality

Production

Vocals

Songwriting

Summary





9 chalices of 10 - Martin
| | |
| --- | --- |
| Related links: | |