| | |
| --- | --- |
| Barren Earth - On Lonely Towers | Published April 15 2015 |

*=Staff's pick

From The Depths Of Spring
Howl*
Frozen Procession*
A Shapeless Derelict
Set Alight
On Lonely Towers
Chaos, The Songs Within*
Sirens Of Oblivion
The Vault*
Genre
Prog./Melodic Death Metal

Jón Aldará

Vocals

Tracks
9

Sami Yli-Sirniö

Guitar

Running time
64 Min.

Janne Perttilä

Guitar

Label
Century Media

Olli-Pekka Laine

Bass

Release
March 24, 2015

Marko Tarvonen

Drums

Country
Finland

Kasper Mårtenson

Keyboard

Producer
Barren Earth
Similar artists
---

I fell hard for Barren Earth's previous records. The bands grandiose tone and approach to making music both on Curse Of The Red River and The Devil's Resolve truly impressed me, and I had very high (too high?) expectations for On Lonely Towers.
At the same time I was a tad worried since the band's singer Mikko Kotamäki (also in Swallow The Sun) had left the band in 2013. The voice of Kotamäki was a very large factor for me at least in lifting the first two records from solid to fantastic levels.
After a somewhat lengthy search the band found Faeroese Jón Aldará. As you've probably have guessed if you snuck a peak at the marks down below Aldará delivers a more than solid performance. The music of Barren Earth demands a versatile singer - a thick growl is very necessary, as well as a very good range when it comes to clean singing. In every song on the album Aldará kills. In Howl he opens with a killer growled first chorus in nice conjecture with guitarists Perttilä and Yli-Sirniös beautifully moaning tones. It's totally great. And that the song delivers a more than enjoyable groove certainly doesn't make it weaker.
The band has worked hard at creating nonlinear songstructures, which is good, although a bit demanding for the listener. That the record is long isn't a problem - it certainly doesn't get boring when the band seamlessly puts a symphonic very doomy section followed by a grotesquely hard blastbeat seaction that gets a wind in the hair guitarsolo as a digestive. The song? Howl.
There is a serious side to the band's music for sure, but at the same time a curiosity to try new roads that I find really appealing. In closer The Vault - a very epic song marked by solid dignity - the band has opted to have a almost dancing section in the middle of the piece. Oh, and by the way - the build-up to that part is masterful.
Overall Barren Earth really impresses with On Lonely Towers. The band has managed to write a record that masterfully combines the band's serious side with curiosity. The more than solid songs are worth our attention, and are nicely presented in a beautiful production. I strongly suspect that On Lonely Towers is a record that I will return to many times in the future as it is the best album the band has put forth in its career so far.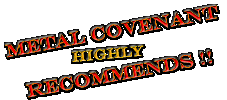 See also review of: The Devil's Resolve

Performance

Originality

Production

Vocals

Songwriting

Summary





9 chalices of 10 - Martin