Gamma Ray - No World Order

*=Staff's pick

Induction (intro)
Dethrone Tyranny*
Heart Of The Unicorn*
Heaven Or Hell
New World Order*
Damn The Machine
Solid*
Fire Below
Follow Me
Eagle*
Lake Of Tears
Genre
Power Metal

Kai Hansen

Vocals

Tracks
11

Kai Hansen

Guitar

Runningtime
52 Min.

Henjo Richter

Guitar

Label
Noise Records

Dirk Schlächter

Bass

Release
10 Sep. 2001

Daniel Zimmerman

Drums

Country
Germany

-

Keyboards

Similar artists
---

After almost two years of an impatient and anxious waiting period the day had finally come for the world to have a new order. And it had in more ways than one - I got the CD on September 11th and I think you all know what happened that day so the title really got a very symbolic meaning to me. This was of course just a very weird coincidence that I bought a CD named No World Order on that particular day, but believe me when I say that it contributed a very unforgettable feeling.
But enough about that and back to the review. As you can see on the track list above the album's got eleven songs and not a single one's got even a small tendency to being less than fantastic. It's just an extraordinary power metal super show in eleven parts where every chapter is made into almost perfection. The entire breathtaking odyssey begins with the great intro Induction followed by the fantastic Dethrone Tyranny and from then it just goes on and on with one amazing track after another.
Even though the last song, Lake of Tears, is a ballad I don't care. This is Gamma Ray and my usual rules about metal and ballads simply fly away and ride the sky… Now some of you might think this is a double standard and I know you're right but I just can't help it. It's too damn good and I just want out and tell everybody on earth and somewhere out in space how great I find this album.
I won't go into any details what so ever about how it sounds and what the production is like. You're just gonna have to trust me when I say that Gamma Ray has never been so outstanding before. Every man, martian (and possibly machine too) will love this solid album and to listen to it could easiest be described as hearing salvation calling. You'll have to travel far and even beyond the black hole to find an album better than this. I can assure you, all fans of Gamma Ray, that Kai Hansen & Co has done it again so follow me and get your hands on No World Order as fast as humanly possible.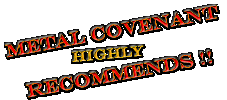 See also review of: Heading For Tomorrow (Anniversary Edition) , The Best (Of) , Empire Of The Undead , Skeletons & Majesties Live , To The Metal , Land Of The Free II , Majestic

Production

Vocals

Compositions

Summary





9 chalices of 10 - Mat
Related links: