Sword - Metalized

*=Staff's pick

F.T.W.*
Children Of Heaven*
Stoned Again
Dare To Spit
Outta Control*
The End Of The Night
Runaway*
Where To Hide
Stuck In Rock*
Evil Spell
Genre
Heavy Metal

Rick Hughes

Vocals

Tracks
10

Mike Plant

Guitar

Runningtime
35 Min.

-

Guitar

Label
Aquarius

Mike Larock

Bass

Release
1986

Dan Hughes

Drums

Country
Canada

-

Keyboards

Similar artists
Metal Church, Jag Panzer, Armored Saint

In the 80's we had a radio show in Sweden called Rockbox which was on the air every Saturday. This show was simply the highlight of the week. The few times I didn't have the opportunity to catch the program the instructions to my mother about how my tape recorder actually worked was thorough and repeated at least twice. Actually it was the most important source for discovering great new hardrock and heavy metal for me in those days. Sometime in the year of 1986 the host of Rockbox presented a new Canadian act under the moniker Sword. When I heard the intro of Outta Control I didn't know what to expect since the band was totally unknown to me. Three minutes later my jaw hit the floor and I couldn't believe what I'd just heard. Monday morning yours truly paid a visit at the local record dealer but the album was nowhere to be found. A couple of weeks later however I managed to get hold of Metalized via mail order.
The opener F.T.W. (Follow The Wheel) sets the standard at once. Fantastic riffs and guitar melodies weaves a nice pattern with an atmosphere that is quite melancholic. When Rick Hughes enter the arena with his raspy yet melodic vocal delivery you can only but surrender. By now you realise that the album title is not picked by chance, this is metal to the bone! Children Of Heaven is more up tempo and starts once again with riffs that makes you shiver, a fact that is constant through the entire album. On this particular track Rick Hughes also makes his best performance and even though it's really hard to choose a favourite tune on this masterpiece, this would probably be the one I'd pick with a gun to my head. Outta Control is probably the fastest and most aggressive track on the album but still very melodic. Since it was the first song I heard with the band, it most certainly got a special place in my heart. I can almost sense the smell of the TDK C-60 it was recorded on back then. Another track worth mentioning is the fantastic Runaway (and we're not talking Bon Jovi here…). The guitar lick that starts this song must be called classic as Mike Plant delivers hammer-ons from hell!
Metalized is nothing more than a masterpiece and it's a shame that this gem hasn't found its way to more listeners, I don't think I have seen or heard one negative word about this record. If the album at the time had been given the right promotion on a bigger label I'm sure it would have made a greater impact in the metal community.
Sword released their second album entitled Sweet Dreams only a year after Metalized but it was a huge disappointment. The overall sound was lame and the song writing uninspired. With that said it wasn't such a big surprise when Sword decided to disband just a while after the release of Sweet Dreams. Rick Hughes has since then released an album with Saints & Sinners but apart from that it's been quiet from the band members. Finally I'd also like to mention that the Italian Underground Symphony label assembled a tribute album to Sword during 2002. Pretty cool given the thought that they only recorded two albums.
Metalized is one of the best heavy metal albums ever to be released and if you haven't heard it yet, make sure you get hold of a copy soon. Maybe you won't fall in love as I did but you won't get disappointed. That, I can assure you!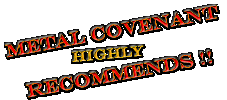 Production

Vocals

Compositions

Nostalgiafactor

9

Summary





9,5 chalices of 10 - Hawk
Related links: