Kreator - Live Kreation

*=Staff's pick

Cd 1:
The Patriarch
Violent Revolution*
Reconquering The Throne
Extreme Aggression
People Of The Lie
All Of The Same Blood
Phobia*
Pleasure To Kill
Renewal
Servant In Heaven-
King In Hell*
Black Sunrise
Terrible Certainty*
Riot Of Violence*
Cd 2:
Lost*
Coma Of Souls*
Second Awakening
Terrorzone
Betrayer*
Leave This World Behind
Under The Guillotine*
Awakening The Gods
Golden Age
Flag Of Hate*
Tormentor*
Genre
Thrash Metal

Mille Petrozza

Vocals

Tracks
24

Mille Petrozza

Guitar

Runningtime
103 Min. (55/48)

Sami Yli-Sirniö

Guitar

Label
SPV

Christian Giesler

Bass

Release
27 June 2003

Jürgen Reil

Drums

Country
Germany

-

Keyboards

Similar artists
Destruction, Sodom, Slayer

I don't know where to begin describing this album. I am blown away by the album as hit after hit are battering out of the speakers like an unstoppable force that from the first second pulls you into an orgy in marvellous riffs of outstanding german brand, and one immortal classic after the other keep hitting your face with an energy which likes is not found elsewhere in the metalworld. I am almost exhausted just by listening to this whole album straight through, and I can imagine what it must be like seeing them live. A real power injection. My eyes tinder with a childs enthusiasm when Mille announces "Terrible Certainty....!!!" and the intro riffs starts, not to talk about what he shouts "Under....The.....Guillotiiiiiiine" and the whirlwind riff hits my face. In that moment I love being a metalfan - I wouldn't want to miss that feeling for anything in the world. There is something special about these germans when they go "eins, zwei, drei, vier...." and a marvellous riff start pumping with double bass drums. Just listen to Coma Of Souls or 2.20 minutes into Lost.
Even though the album has been put together from recordings from no less than 5 different concerts, it feels remarkably compact and unisome. It has a feeling of class and professionalism over it. The songs have been chosen from the diehard fan's point of view and obviously work has been put into it to make this very much worth the money. The production is heavy and clear with seemingly little or minimal after-polishing in the studio, at least not to my ears. It is just raw and powerful as Kreator should be. Mille's vocals are just great - stronger and more instense than ever, and only the introduction to Under The Guillotine and Extreme Aggression is impressive and capture the essense of Kreator just by that, and when the songs are being pumped out you realize why a whole metalworld for over a decade have had and always will have Kreator as a rolemodel.
Every album from their career is represented, with major focus on the last album and the classics Pleasure To Kill and Terrible Certainty. Only the pearls has been picked from the last, not so good, albums Endorama and Cause For Conflict. The album is perfectly balanced and never during one single second gets boring. In fact it everytime feels like the album ends too quickly after you put it on.
The grades might be affected a bit from me rediscovering a great band, but the fact remains: it is a fucking great album. Filled with power, a great sound, good public response, riff after riff following each other for almost 2 hours with killing vocals and great songs. And just when you lie there wiped out by the power explosion you just have witnessed, and thinking that it must be over because you can't take no more - they fire off the most aggressive and forceful version of Flag Of Hate, and round the whole thing off with Mille's announcement of "Tormentoooooor!!!, and a bulldozer version of the song with the same name. This is the point where your neck eventually snaps and you are lying there like a sweaty little mess on the floor. Awesome! Almost a full amount of chalices, and one of the best metal recordings ever.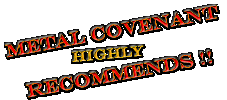 See also review of: Gods Of Violence , Phantom Antichrist , Hordes Of Chaos , Violent Revolution , Enemy Of God , Enemy Of God Revisited

Production

Vocals

Compositions

Summary





9,5 chalices of 10 - Tommy
Related links: