| | |
| --- | --- |
| Eternal Legacy - Lifeless Alive | Published December 03 2009 |

*=Staff's pick

Purblind
Lifeless Alive*
Souls Of Prey
Abbadon*
Visionary Sin
Misery's End*
Lost But Not Alone
Fight The Heavens
Wicked Glory
Braindead (instrumental)*
The Dead Matter
Genre
Power/Thrash Metal

Jason Vanek

Vocals

Tracks
11

Jason Vanek

Guitar

Runningtime
54 Min.

Shaun Vanek

Guitar

Label
Auburn Records

Spencer Phillips

Bass

Release
27 November 2009

Steve Dukuslow

Drums

Country
USA

Spencer Phillips

Keyboard

Similar artists
Brainstorm, Metal Church, Iced Earth

Described by guitarist Shaun Vanek as their equivalent of Pantera's Cowboys From Hell from an identity standpoint, I couldn't agree more. Whereas their previous release, The Coming of the Tempest, was a veritable cross-section of the band's progression up until that point, consisting of what was essentially two EPs and two re-worked pre-EL songs, Lifeless Alive is their first full-length recording of entirely new material done in a single session. It has certainly paid off.
Eternal Legacy's second release is a much more focused beast than their previous. The song-writing is superb, with memorable and catchy lyrics that don't sacrifice heaviness to achieve that result. I feel that the biggest problem with modern bands is not that they don't have the chops or killer riffs to catch your attention, but rather that they have not been able to master the art of crafting a song to contain these elements. If you look back at great metal bands like Metallica, Sabbath, or Maiden, the common thread they all share is that of top-notch songwriting, each piece having an identity of its own, where you can pick it out by name. Fortunately, Eternal Legacy does not fall prey to this syndrome, creating a suite of songs (containing one feature-length instrumental, no less!) that are each distinct from one another while maintaining a cohesive style.
Stylistically, Lifeless Alive makes a noticeable departure from the power prog leanings of Tempest in favor of a more thrash-influenced classic metal approach, taking cues from its predecessor's two heaviest tracks:"Shadow of Revolution" and "Metal Anvil." Though maintaining their core sound, Eternal Legacy makes a smart choice by focusing on the things they do well (read: heavy riffs and catchy songwriting), dropping any cliché indulgence that may been previously present. To that end, the once-prominent keyboards have been brought down quite a bit, used mostly for atmosphere rather than as a lead instrument. Don't get me wrong; the solos still rip and the drumming is still varied and technical, but a certain air of mature restraint in favor of fitting the part is definitely perceivable.
The biggest change and improvement in my opinion is by far Jason Vanek's vocals. While his voice has always been trained and professional in the past, it was usually relegated to fitting the archetype of the power metal style. Fortunately, the varied songwriting on this record has afforded Jason the chance to flex his vocal range. While the epic chorus sections are of a similar style to what has been heard previously, Jason really lets loose on some of the more aggressive tunes, dropping down in his register to give a performance very reminiscent of James Hetfield or Chuck Billy, giving the music that intangible edge that too many of today's bands try to recreate with screaming or growling.
It is worth noting that the production on this release kills, and even more so for the fact that it was done entirely in-house by Jason Vanek in his personal studio. Eschewing the typical flat, triggered sound of most modern recordings, Lifeless Alive feels huge and expansive. The guitars are warm and heavy without losing definition. The kicks are punchy yet have body, in an 80's analog recording kind of way. The vocals and cymbals are clear and audible, providing dynamics by cutting through the wall of guitars. In fact, my only gripe with the production is that the snare sound is a bit too fat and "splashy" sounding and sometimes gets lost in the mix; a nitpick that is easily overlooked when viewed from the big picture.
Lifeless Alive does not fit neatly into any kind sub-genre of metal, taking inspiration from across the spectrum. The truth is that if you could not get into the songs on this album, then I don't really know how you could consider yourself a fan of metal. There is literally something that will appeal to even the most genre-entrenched devotees, providing a heavy experience that is very much style agnostic while still maintaining its own identity.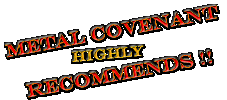 Performance

Originality

Production

Vocals

Songwriting

Summary





9 chalices of 10 - Dux

Eternal Legacy have altered more than their logo, since their debut. As much as this sophomore effort is a rewarding progression for the band, it is not without its misfires. True, Traditionalists will appreciate that Spencer's keys are now more background oriented. This provides for an atmospheric tone, which is justly replaced with more soaring guitar melodies, and shredding solos. I acknowledge that Jason's vocals are more crisp and clear; however, Eternal Legacy are now approaching a modern thrash motif, which shakes their alliance with Auburn. This could be due to the fact that Shaun plays with Cellbound, Manimals, as well as Wretch. Overall, the songs do not all flow together, even if they are all new. I feel that the band rely too much on their fan approval, rather than playing songs which exist on their own merit. Dux is far too biased in his review, and just not objective enough. I recently caught EL at the Auburn Records 25 Anniversary Show, last Saturday. I was surprised that they did not play either "Visionary Sin"or "Lost But Not Alone". These are the two best songs on the album, and excellent demos, which I actually witnessed being recorded in the studio, two summers ago. Here is hoping Tim Frederick will kick a little more Classic Metal life back into the lifeless banalities. //Michael the MettleAngel (7,5 of 10)

| | |
| --- | --- |
| Related links: | |