| | |
| --- | --- |
| Ghost - Infestissumam | Published April 22 2013 |

*=Staff's pick

Infestissumam
Per Aspera Ad Inferi
Secular Haze
Jigolo Har Megiddo*
Ghuleh/Zombie Queen*
Year Zero*
Body And Blood
Idolatrine
Depth Of Satan's Eyes
Monstrance Clock*
Genre
Heavy Metal/Occult Rock

Papa Emeritus II

Vocals

Tracks
10

A Nameless Ghoul

Guitar

Running time
48 Min.

A Nameless Ghoul

Guitar

Label
Universal Music

A Nameless Ghoul

Bass

Release
10 April 2013

A Nameless Ghoul

Drums

Country
Sweden

A Nameless Ghoul

Keyboard

Producer
Nick Raskulinecz
Similar artists
---

With their debut album Ghost gained international fame as well as praise from people such as James Hetfield and Dave Grohl and many have been wondering if they ever would be able to top Opus Eponymous with their sophomore album.
The first thing you'll notice listening to Infestissumam is that it is a much more diverse album than Opus Eponymous and I imagine that this album might appeal to a lot of more people than its predecessor. Where Opus Eponymous had a pretty scaled-down production with a lot of Mercyful Fate influences, this time around we're treated to a lot of pipe organs, grand choirs, a "larger" production and a variety of different influences.
After the short opening track with some really great guitar melodies we're treated to one of the most straightforward heavy metal songs of the album, Per Aspera Ad Inferi. It has a pretty repetitive chorus but not to the point where it gets annoying. However, the heavier parts of this song really sound like crap, as if they went for a "loudness war"-production. It's a shame really, when all other songs sound good and I can't believe that no one pointed out that it didn't sound great during the production process.
Secular Haze has been playing a lot in this household since it was released as a single a while back. With its circus-like melodies in triple meter, it is a really cool song that sounds even better in the context of the album than as a stand-alone single. Another song that I heard beforehand that became even better as a part of the album is Ghuleh/Zombie Queen, one of my favourite songs of the album. It starts out as a creepy ballad and after the three-minute mark it turns around completely, into an epic heavy metal song with an incredibly powerful chorus.
My absolute favourite song of the album however, and probably Ghost's best song to date, is Year Zero. It sums up Ghost spectacularly well in six minutes; everything is spot-on - the verses, the chorus, the lyrics, the arrangements and the "Belial - Behemoth - Beelzebub..." mantra. Just… Wow.
While this album has two incredibly highlights in Ghuleh/Zombie Queen and Year Zero, I find that even the songs that didn't really stand out to me in the beginning - Jigolo Har Megiddo, Body And Blood, Idolatrine, Depth Of Satan's Eyes and Monstrance Clock - really grow better and better with each time I hear the album. They also provide a lot of depth to the album, with Jigolo Har Megiddo's pop feeling, Body And Blood's amazing climax, Idolatrine's glam influences, Depth Of Satan's Eyes which sounds a lot like something from the debut album, and Monstrance Clock which wraps up the album fantastically.
To express myself briefly, Infestissumam is an absolutely amazing album which picks up where Opus Eponymous left off and develops the music and concept of Ghost to new levels. Check it out if you haven't already. All of you.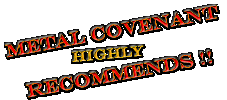 See also review of: Opus Eponymous

Performance

Originality

Production

Vocals

Songwriting

Summary





9 chalices of 10 - Bjorn