| | |
| --- | --- |
| James LaBrie - Impermanent Resonance | Published July 26 2013 |

*=Staff's pick

Agony
Undertow
Sleight Of Hand*
Back On The Ground
I Got You*
Holding On*
Lost In The Fire
Letting Go
Destined To Burn*
Say You're Still Mine
Amnesia
I Will Not Break
Genre
Heavy Metal

James LaBrie

Vocals

Tracks
12

Marco Sfogli

Guitar

Running time
50 Min.

-

Guitar

Label
Inside Out Music

Ray Riendeau

Bass

Release
29 July 2013

Peter Wildoer

Drums

Country
Canada/USA/Italy/Sweden

Matt Guillory

Keyboard

Producer
Jens Bogren, Tony Lindgren

Peter Wildoer

Screams

Similar artists
---

Just two months prior to Dream Theater's coming self titled release, vocalist James LaBrie's new solo album hits the streets. I really can't see the point in that peculiar timing. His latest solo effort was released three years ago and his main band's a year later. Being on different labels though might have helped to determine these decisions.
I might as well write this answer right away, because everybody will sooner or later let this question come in mind. Yes, there are progressive moments on this release, yet that's definitely not what's set in total focus. LaBrie instead concentrate on accurate killer choruses that combines the essence of his newly improved voice, captivating monumental rhythms and brilliant playing. It's a well balanced album with a mixture of melodic metal styles, making it enthralling all throughout these entire twelve songs.
In Dream Theater, LaBrie has by evil tongues occasionally been called the band's weak link, but with this album, he certainly shows what he's capable of. In my opinion, he hasn't sung this well in many years, as he now follows his own distinct pattern with much needed freedom. He hits the verses spot on and doesn't falter for one bit when he builds the atmospheres or the heavy hitting emotional impacts.
A first class production brings out most of this effort. Jens Bogren is a killer producer and also highly sought after. In coming years, only bands with solid financial means will probably be able to hire him. What a shame if so. He will be sorely missed. In track number 5, I Got You, LaBrie sings that he doesn't need stars to wish upon or some magician with a magic wand. Rest assured, he already have them.
This international unit has with Impermanent Resonance created something killer. This is definitely one of my favorite albums in 2013 up until now and therefore, for the second time this year, I hand out 9 well deserved and grandiose chalices.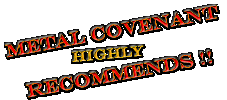 Performance

Originality

Production

Vocals

Songwriting

Summary





9 chalices of 10 - Tobbe