Gojira - From Mars To Sirius

*=Staff's pick

Ocean Planet*
Backbone*
From The Sky*
Unicorn
Where Dragons Dwell*
The Heaviest Matter Of The Universe*
Flying Whales
In The Wilderness*
World To Come
From Mars
To Sirius
Global Warming
Genre
Metal

Joe Duplantier

Vocals

Tracks
12

Joe Duplantier

Guitar

Runningtime
67 Min.

Christian Andreu

Guitar

Label
Listenable Records

Jean-Michel Labadie

Bass

Release
27 Sept. 2005

Mario Duplantier

Drums

Country
France

-

Keyboards

Similar artists
Devin Townsend, Hypocrisy, Morbid Angel

It happens sometimes that there are bands out there, whose names you recognize but actually never have heard play. And even though you haven't heard a single tone from the band you have probably put them in your mind archive, judged and doomed. I guess this have happened to me when it comes to the French band Gojira, Listenable Records. I try to remember when I've heard about this band for the first time and I guess it must be quite some years by now. I won't judge this band by looking at their previous releases, though I haven't heard them I had a feeling of what they and their music stood for. So if we get political for a while there are various ways to get it in your music. You can do it the Napalm Death way and spit it in the face of those who are in leading position of our society, or you can do it the Gojira way and use the sledgehammer..
From Mars To Sirius is a bursting creation filled with muscles and of disgust to the fact that we consume our planet. Gojira, the correct translation in Japanese for the better-known Godzilla. The band actually started their career as Godzilla but due to legal rights they changed it to the Japanese version. A smart move, almost as smart as the music it stands for. What about the music on From Mars To Sirius then? Well I am not very political so I will only concentrate on what I hear. It's hard to describe as it will affect people in different ways but for those of you who has a little bit patience, this album will open many doors and leave wide marks.
From Mars To Sirius is a sledgehammer; it strikes you hard and without mercy. Gojira is a hybrid of elements taken from various music. For myself, I build up a picture that this could well be the result of what would happen if Devin Townsend joined Morbid Angel. The result would be totally ferocious and chaotic. Gojira´s music is as monstrous as the creature that gave this heavy and extreme machinery its name. The supreme voices of Joe Duplantier are something out of the ordinary and must be the darkest and angriest this year.
The level of song writing and arrangements holds highest quality. And the diversity is astonishing; many are the moments of total delight and pleasure on From Mars To Sirius. Songs like From The sky, Where Dragons Dwell and In The Wilderness are nothing else but masterpieces. Songs with a clear touch of the same song-writing that a certain already mentioned Florida based band uses, but heavier and with more finesse. Gojira performs crushing metal with great melody building and uses the aggressiveness with style. I wouldn't call this death metal, neither a variant of Metal versus hardcore or industry. From Mars To Sirius is something else. And it's up to you to discover this puzzle of metal where I think all sub genres are included and represented somehow.
There are few bands that can handle the several musical elements and styles like Gojira do without creating just disillusion. Brilliancy or almost sheer perfection are words that pops up in my mind after listening to this album. A crushing experience, nothing like the imagination I had for this band as I mentioned in the beginning. Gojira aren't to me any longer a boring political mass of ideas belonging in a world of utopia. To me this is a well-oiled musical machinery of death, black, grind and hardcore all very well and genius fitted together. This album is strongly recommended and will certainly stay in repeat mode on my stereo for a very long time.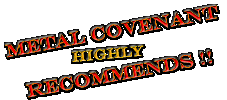 See also review of: The Way Of All Flesh
Production

Vocals

Compositions

Summary





9 chalices of 10 - Tim
Related links: