Enter The Hunt - For Life. 'Til Death. To Hell. With Love

*=Staff's pick

Setting Sun
Erased In Grace
One*
Forever
Go*
Even The Night
Never Stop*
Black Stars*
Alone
Yours Truly
Genre
Alternative/Prog. Metal

Krister Linder

Vocals

Tracks
10

Björn Flodkvist

Guitar

Runningtime
41 Min.

Mats Ståhl

Guitar

Label
Sony BMG

Pontus Lindqvist

Bass

Release
23 Aug. 2006

Stefan Kälfors

Drums

Country
Sweden

-

Keyboards

Similar artists
Tool, DeadSoul Tribe, Krux

This is one of the albums scheduled for release during 2006 that I have had the highest expectations on. I first witnessed the band last summer and they blew me away with their live performance at Metaltown. The three songs they had posted at their homepage at that time made me want more and further made me expect something amazing when their debut should eventually see the light of day. Enter The Hunt might be a new band but the guys aren't exactly newcomers, vocalist Krister Linder (once known as Chris Lancelot) has been a member of Swedish pop-oriented bands Grace and Dive and has also released several albums with electronic music. Moreover, if you look at the other guys in the band you can trace past references to the punk outfit The Krixhjälters, Omnitron and Candlemass.
So finally the album arrived and once again Enter The Hunt knocked me off my feet. For Life. 'Til Death. To Hell. With Love was and still is exactly how great as I hoped it to be. Somehow, it feels like this album speaks directly to me, the dark suggestive rhythms and songs that completely make you forget about time and space. Their music could easily be called introverted but still it feels so naturally simple as the music is feeding on emotion. Comparisons have been made with Khoma, Katatonia, Tool and Nevermore and that points you in the right direction but it doesn't nearly make Enter The Hunt justice. It is progressive and experimental music based on heavy riffing but what is most important is that Enter The Hunt generates a constant flow in their music that sucks you in.
The band come out just as tight as necessary and I could point out a lot of things that is great with the music and their performance, like the outstanding playing on the drums by Stefan Kälfors for instance, or the melodic riffing that splendidly supports the vocals. And the vocals are what really make the difference for Enter The Hunt, since Krister Linder has a voice that is purely amazing. We are talking about a voice that is magical, folks. He sings with a great deal of emotion and bends and shapes his voice in a superior way and with such devotion that I would believe anything he sings. Listen to the song One and you will know what I am talking about, it is overall a song that represents Enter The Hunt rather well.
Other songs worthy of mentioning, well, all songs are actually worth being mentioned but apart from One I find the explosive tracks Go and Never Stop along with Black Star, which features some heavy Sabbath riffing, to be the better ones on the album. The downside with For Life. 'Til Death. To Hell. With Love is that too many of the songs are too short, most of songs are between three to four minutes and even if they are packed to the brink I could easily see most of them been made longer. Nevertheless, this is so far the best album released this year and I do not know what other band that might be able to beat Enter The Hunt before the year has ended.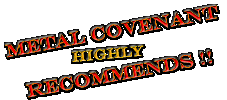 Production

Vocals

Compositions

Summary





9,5 chalices of 10 - Thomas
Related links: