| | |
| --- | --- |
| For All We Know - For All We Know | Published April 16 2011 |

*=Staff's pick

Blind Me
Busy Being Somebody Else
Out Of Reach
When Angels Refuse To Fly*
I Lost Myself Today*
Keep Breathing*
Down On My Knees
Save Us…
Embrace/Erase/Replace/Embrace
Tired And Ashamed
Open Your Eyes
Nothing More
Genre
Prog./Symphonic Metal

Wudstik

Vocals

Tracks
12

Ruud Jolie

Guitar

Runningtime
58 Min.

Thijs Schrinemakers

Organ

Label
Self released

Daniel Gildenlöw

Bass

Release
25 April 2011

Léo Margarit

Drums

Country
Holland

Marcu Kuypers

Piano

Producer
Ruud Jolie
Similar artists
Ayreon, The Flower Kings, Star One, Pink Floyd

To be honest I got a bit fed up with prog and symphonic rock. I listened quite a lot to bands like Dream Theater, Ayreon, Neal Morse, Flower Kings, you name it. But then I just felt it all became a bit too introvert in some cases, not the aforementioned, but the scene got a bit flooded.
I went back to my simple 70s origin. Things came back to me again when I heard Australian act Toehider and the new Star One and to my surprise I popped in a new CD in my player yesterday, which I just can't seem to pop out again.
This is a band/project initiated by Dutch Within Temptation guitarist Ruud Jolie. Already from the first couple of notes it grabbed me in a way I definitely hadn't counted on. It's definitely not your everyday play-as-complicated-as-you-can type of technical prog, neither is it any let's-make-an-extremely-introvert-and-strange type of band.
It feels like Ruud has picked his influences from a wide variety of sources. I hear some almost Queen-influenced overtones, mixed with some Arjen Lucassen style writing, mixed with heavy guitar riffing, soft piano and a wide musical landscape.
Ruud has also invited a new force to be reckoned with in singer Wudstik. He did sing on the latest Ayreon album, which does give him cred in the prog scene and it was the first time he caught my attention. Here he really shines, I must say. For All We Know is a highly captivating album taking the listener through a variety of musical landscapes, moods and motions.
A song like When Angles Refuse To Fly starts off in a pretty mellow musical landscape, with only the drums giving away something may happen. Suddenly a brutal baritone guitar gives the song a concrete foundation to firmly stand on, while Wudstik layers vocal harmony upon harmony in the chorus.
There are also some soft, almost Pink Floydish moments in songs like I Lost Myself Today which flows by like a spring stream with a nice solo by guitarist Tom Sikkers. Keep Breathing is another cool tune featuring a nice vocal duet by Pain Of Salvation's Daniel Gildenlöw and Ruud's band mate Sharon den Adel. This is another song that just keeps building, until it unfortunately ends way too soon.
This is what a great symphonic/prog album should be like, a full package, an album you just have to listen to all through, where every song is a piece of a well structured pattern. Well done, indeed! A must for fans of melodic prog!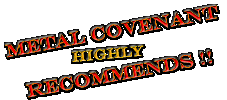 Performance

Originality

Production

Vocals

Songwriting

Summary





9 chalices of 10 - Stark
| | |
| --- | --- |
| Related links: | |