| | |
| --- | --- |
| Dark Tranquillity - Fiction | Published May 16 2007 |

*=Staff's pick

Nothing To No One*
The Lesser Faith
Terminus (Where Death Is Most Alive)
Blind At Heart*
Icipher*
Inside The Particle Storm
Empty Me*
Misery's Crown
Focus Shift
The Mundane And The Magic*
Genre
Melodic Death Metal

Mikael Stanne

Vocals

Tracks
10

Martin Henriksson

Guitar

Runningtime
46 Min.

Niklas Sundin

Guitar

Label
Century Media

Michael Nicklasson

Bass

Release
18 April 2007

Anders Jivarp

Drums

Country
Sweden

Martin Brändström

Keyboard

Similar artists
Insomnium

Watch closely on the album sleeve above. Sometime in the distant future, when a metal-monolith is raised to inspire coming generations, the letters "DT" will doubtless speak for themselves. When the longest standing band from the Gothenburg metal scene finally nails their true masterpiece it's mostly by visiting their past; almost like they have smashed their discography to pieces, picked up the shards and forged something new out of them. The result is Fiction - the most stirring album I've come across in years.
The 2002-release Damage Done was a remarkable effort, albeit it suffered slightly from not being diverse enough. This was corrected on Character, which brought in more complexity and even had a touch of progressivism to it. Fiction, Dark Tranquillity's eight album, comes full circle since it borrows the experimental stuff from the landmark album The Gallery, but also brings in influences from the keyboard-heavy album-duo Projector and Haven.
Dark Tranquillity blasts away Nothing To No One as the first track on the album. It's that kind of song that you can listen to five times in a row and keep discovering new exciting things each spin. It is followed by The Lesser Faith, that intertwines fast and thrashy handiwork with sweeping keyboard-passages and short, controlled guitar bursts. The recurring breakdowns in the already familiar Terminus (Where Death Is Most Alive) is another highlight, as is the furious shredding and drumming in Blind At Heart.
The first single Focus Shift is certainly a great song in itself, but feels like the blandest piece in this context, which says a lot about the greatness of Fiction. While Focus Shift is rather straightforward, the introverted Inside The Particle Storm is its polar opposite with its pitch-black strokes of metal. Slightly more accessible is Icipher and Misery's Crown, two songs that have clear shades of goth to them and sounds like a Tiamat on steroids.
When keyboards in most bands only fill the purpose of creating atmosphere, Martin Brändström's electronics plays a fundamental part in Dark Tranquillity's universe. On Fiction they are more prominent than ever, acting like a flickering beacon of brightness that enlightens an altogether grey and gloomy world. Like in the particularly jolting piece Empty Me, which has a Dream Theater-esque bit in the middle thrown in for good measure. The nuanced song feels almost equivalent to traveling through the stormy and black seas on a tiny ship, and finally getting out alive, greeted by the morning sunrays of Brändström's keyboards.
Fiction rounds off almost as great as it begun, when Stanne duets with Nell Sigland (Theatre Of Tragedy) in The Mundane And The Magic. Dark Tranquillity hasn't used female vocals or clean vocals since the underrated Projector-album from 1999, but here it works so admirably that they should definitely choose this path more often in the future. The song is a perfect example of how skilled the band have become in incorporating a variety of great melodies into a single composition and then somehow tying them all together in the end. One must also mention the star of the show, Mikael Stanne - perhaps the metal-worlds greatest poet. In nine cases out of ten I pay little attention to band's lyrics, but with each and every Dark Tranquillity-release I always try to de-code what Stanne wants to tell us with his lyrics.
The reactionaries will try to persuade you that The Gallery is still Dark Tranquillity's greatest hour, but the truth is that it finally has been surpassed. Fiction is simply a massive achievement from the godfathers of melodic death - how they will possibly outdo this during the rest of their careers is anyone's guess.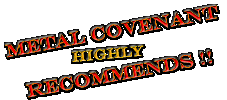 See also review of: We Are The Void , Character , Exposures In Retrospect And Denial

Performance

Originality

Production

Vocals

Songwriting

Summary





10 chalices of 10 - Niklas
| | |
| --- | --- |
| Related links: | |