Ensiferum - Ensiferum

*=Staff's pick

Intro
Hero In A Dream
Token Of Time*
Guardians Of Fate
Old Man (Väinämöinen)
Little Dreamer (Väinämöinen part II)*
Abandoned
Windrider*
Treacherous Gods
Eternal Wait
Battle Song*
Goblins' Dance
Genre
Folk Metal

Jari Mäenpää

Vocals

Tracks
12

Jari Mäenpää

Guitar

Runningtime
55 Min.

Markus Toivonen

Guitar

Label
Spinefarm

Jukka-Pekka Miettinen

Bass

Release
23 March 2001

Oliver Fokin

Drums

Country
Finland

Meiju Enho

Keyboards

Similar artists
Wintersun, Finntroll

Ensiferum have been around since 1997, released a few demos and two full length albums, but I just recently came across the band. I first heard the most recently released album and thought it was very good, and I decided to check up on their previous material. When I got my hands on this album and was spinning it up for the first time, I was flabbergasted by what I was confronted with. They manage to blend different elements of mostly semi-death/black but also ordinary heavy/power metal with strong folk inspired melodies in a perfect way. There is everything from plain and simply heavy metal riffs, a great deal of delicious leads, hooks and riffs, melodic choruses and even some sort of chanting from time to time.
I am not going to analyze each and every song this time, I am just going to say that they are all varied and contain a lot of different elements, but without being annoyingly progressive or difficult to listen to. In songs such as Windrider and Battle Song, you get it all: heavy, plain metal riffs leaning toward death/black metal at times, fat pumping verses, a break with folk tunes and chanting, back to fast metal again, all spiced with excellent guitarwork. There is not one dull moment on this album, since they in a perfect way manage to blend all these elements to an almost perfect symbios that should suit most metalheads as they all along the way have one foot strongly in the normal metal field. If you furthermore are a sucker for folk inspired melodies - you have a great band to dig into here.
A few extra words should be dedicated to the guitar work. The guitarists are doing a sterling job providing us throughout the album with nothing but delicious and melodic riffs in a constant and nice flow. Very melodic and accompanied by the great choruses and chantings it is almost something magic to be a part of. Proof of very good musicianship. The heavy riffs frequently brings us back in the heavy/death metal land again, and they are all done with a bit of originality, so I can do nothing else than bow my head deep for this band.
The production is very good. Simple, clear and a bit naked and raw like the finnish, frosty atmosphere, and they really manage to capture the spirit of the northern culture. At the same time it makes you in a very good mood when listening to Ensiferum. Somehow it gives a feeling of things like hope and freedom, and the mostly "happy" and "jolly" riffs, due to their melodicness, are contributing to this mood.
Ensiferum have since this one released another fullength album (Iron, 2004), which also is very good and absolutely buyworthy but it does not really reach the heights of this formidable masterpiece, and ends up half a point behind. After the release of Iron, the vocalist/guitarist Jari Mäenpää left the band and formed the band Wintersun, and the one taking over the vacancy was Petri Lindroos, also vocalist in Norther.

Many bands play folk inspired metal, but none of them do it better than Ensiferum. They are simply several classes better when it comes to musicality and arrangements, and this album is a feast for the ears. Check it out!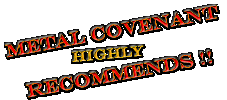 See also review of: From Afar , Victory Songs , Dragonheads , 10th Anniversary Live

Production

Vocals

Compositions

Summary





10 chalices of 10 - Tommy
Related links: