| | |
| --- | --- |
| D-A-D - Dic.nii.lan.daft.erd.ark | Published November 20 2011 |

*=Staff's pick

A New Age Moving In
I Want What She's Got*
The End*
Fast On Wheels
The Place Of The Heart
Last Time In Neverland
Breaking Them Heart By Heart*
We All Fall Down*
Wild Thing In The Woods
Can't Explain What It Means
Drag Me To The Curb
Your Lips Are Sealed
Genre
Hard Rock

Jesper Binzer

Vocals

Tracks
12

Jesper Binzer

Guitar

Running time
51 Min.

Jacob Binzer

Guitar

Label
Sony Music/Mermaid Records

Stigge Nasty

Bass

Release
14 November 2011

Laust Sonne

Drums

Country
Denmark

-

Keyboard

Producer
Nick Foss
Similar artists
---

When D-A-D release an album you never know what you will get. Hard rock, Country rock and Heavy metal are just some of the genres they've represented, so when they return after three years I don't know what to expect. The title of the album is one of this century's best and we will probably soon find out if a couple of lawyers will knock on some doors, just like they did some twenty years ago.
It doesn't take long until I find out that this album is one of their best work thus far. Even though I was pleased with their last effort, Monster Philosophy, I didn't expect that this album would be such a slap in the face. It's a straight forward hard rock album with all the D-A-D ingredients. Just the way they should sound like.
The diversity of the songs is stunning. It's feels like they've created an album spanning from their first record until now, with riffs, rhythms and beats taken from 25 active years. All this with a new touch of course and thank heavens for that, because we all know what going back to the roots would mean. Just another shitty album with a band that has lost it. To name a few tracks and return to the actual review, we get pop-rock songs like the first single, I Want What She's Got, heavier songs like A New Age Moving In and ballads the D-A-D way like Your Lips Are Sealed.
All from the first song until the last, I feel that this album will be a future classic. Give this album a chance and a couple of years and it will be right up there with their most famous records. Some may say that I've lost my mind, but it's your loss if you don't dig this quality music. Definitely one of 2011's best releases.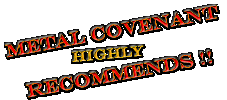 Performance

Originality

Production

Vocals

Songwriting

Summary





9 chalices of 10 - Tobbe
| | |
| --- | --- |
| Related links: | |