| | |
| --- | --- |
| Primal Fear - Delivering The Black | Published January 22 2014 |

*=Staff's pick

King For A Day
Rebel Faction*
When Death Comes Knocking
Alive & On Fire
Delivering The Black
Road To Asylum
One Night In December*
Never Pray For Justice*
Born With A Broken Heart
Imseminoid*
Genre
Heavy/Power Metal

Ralf Scheepers

Vocals

Tracks
10

Magnus Karlsson

Guitar

Running time
53 Min.

Alex Beyrodt

Guitar

Label
Frontiers Records

Mat Sinner

Bass

Release
24 January 2014

Randy Black

Drums

Country
Germany

Magnus Karlsson

Keyboard

Producer
Mat Sinner
Similar artists
---

One thing that has often puzzled me is that Primal Fear isn't a bigger act than what the eerie reality shows. This blazing band is far from being a small and unknown one, somewhere out on the horizon, but at the same time, the band has never really come close to reach the absolute valid top of heavy metal. The band definitely has its specific, genuine sound, somewhere in the vast field of heavy and power metal, which is highly significant also on this brand new and outstanding release.
Even if slim progress and minor changes naturally are evident, there's no way to mistake the music's origin and this record has just about everything good that has been exposed on nine full length albums in the past. A sharp, powerful and spot on production, one of metal's finest vocalists, bone-splitting massive metal riffs and resounding drums, that all together weaves the way to dynamic, rock-hard catchy direct hits that strike like lightning.
Although it's a patented and bulletproof process all over this album, it still feels like a rejuvenated performance that carves through solid rock. Delivering The Black shows longevity and that Primal Fear has the flexible capacity to combine fast songs, catchy elements, mid-tempo tracks, ballads and epic moments to discharge an instant thrust.
It expresses speed and blasting vitality with red-hot killer songs Rebel Faction and Inseminoid, captivating and exciting tracks like Never Pray For Justice and the album's first single When Death Comes Knocking, solid dark riff machines like the title track, appeasing and emotional things like Born With A Broken Heart and finally monumental, epic impacts like One Night In December.
This knock-out effort is a distinct and pinpointed experience almost from start to finish. During these highly effective fifty-three minutes, there's only a few minor things that's not completely arresting. It's a display of massive guitar plays backed by an amazing, standout vocal performance signed Ralf Scheepers that together creates awesome songs with eminent moments. This deal will definitely spin numerous times more in my home in the coming years.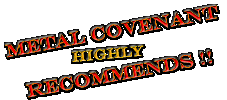 See also review of: Best Of Fear , Rulebreaker , Unbreakable , 16.6 (Before The Devil Knows You're Dead) , Seven Seals , Devil's Ground , Black Sun , Nuclear Fire , Horrorscope , The History Of Fear


See also: interview with Mat Sinner
Performance

Originality

Production

Vocals

Songwriting

Summary





9 chalices of 10 - Tobbe