| | |
| --- | --- |
| Asphyx - Deathhammer | Published March 03 2012 |

*=Staff's pick

Into The Timewastes
Deathhammer*
Minefield*
Of Days When Blades Turned Blunt
Der Landser
Reign Of The Brute
The Flood*
We Doom You To Death*
Vespa Crabro
As The Magma Mammoth Rises
Genre
Death Metal

Martin van Drunen

Vocals

Tracks
10

Paul Baayens

Guitar

Running time
47 Min.

-

Guitar

Label
Century Media

Alwin Zuur

Bass

Release
27 February 2012

Bob Bagchus

Drums

Country
Holland

-

Keyboard

Producer
Harry Wijering/Dan Swanö
Similar artists
Bolt Thrower, Autopsy, Obituary

Deathhammer is the eighth full-length album from Dutch death-metal veterans Asphyx. Following up the 2008 release Death… The Brutal Way, I had pretty high expectations and let me just put it like this: I wasn't disappointed. Not one bit.
Someone once told me that in an ideal death-metal record the guitar should sound like a chainsaw cutting flesh off of bones and the first thing that strikes you when you listen to Deathhammer is exactly that. Furthermore, Martin van Drunen's voice basically sounds like the human version of that chainsaw - after the first two seconds of the album, I'm hooked.
On one hand, there are songs like Into The Timewastes, Deathhammer, Reign Of The Brute and Vespa Cabro - schoolbook examples of fast-paced death-metal songs that kick your ass before you have time to think about what's happening. On the other hand, there are the doom-metal influenced, slower, almost sluggish songs like Minefield, We Doom You To Death and As The Magma Mammoth Rises which bring that extra dimension to the record.
Basically, what you need to know is that this album is absolutely phenomenal, with the title track being one of the best death-metal songs I've heard in a long, long time. If you have any interest whatsoever in brutal music, check this out. It's only March but this might very well end up being the best album of the entire year. This is true death metal, you bastards.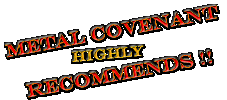 See also review of: Incoming Death , Death... The Brutal Way

Performance

Originality

Production

Vocals

Songwriting

Summary





9 chalices of 10 - Bjorn
| | |
| --- | --- |
| Related links: | |