| | |
| --- | --- |
| Nightwish - Dark Passion Play | Published January 11 2008 |

*=Staff's pick

The Poet And The Pendulum
Bye Bye Beautiful*
Amaranth *
Cadence Of Her Last Breath*
Master Passion Greed
Eva*
Sahara*
Whoever Brings The Night
For The Heart I Once Had
The Islander
Last Of The Wilds*
7 Days To The Wolves
Meadows Of Heaven*
Genre
Gothic Metal

Anette Olzon

Vocals

Tracks
13

Emppu Vuorinen

Guitar

Runningtime
76 Min.

-

Guitar

Label
Nuclear Blast

Marco Hietala

Bass

Release
28 Sept. 2007

Jukka Nevalainen

Drums

Country
Finland

Tuomas Holopainen

Keyboard

Similar artists
Within Temptation, Epica

Sometimes one has wondered if the sacking of the charismatic diva Tarja Turunen was the best PR-trick ever. The whole circus around the replacement and the interest in how she should manage to fill in for such a dominant front woman has made Nightwish bigger than ever. Even those who did not care about the band before have an opinion about Anette Olzon as the new singer. But when Dark Passion Play finally lies on my desk it is a whole other thing that makes me grasp for breath. The songs are just a pure flood of golden hits.
I always belonged to those fans stating that Tarja was Nightwish, opposing those highlighting Tuomas Holopainens compositions. Now I'm almost ready to declare the man a pop genius. Ever since Angels Fall First he has steadily improved his songwriting, most remarkably on Century Child and Once. This is a further step in that direction.
The choice of The Poet And The Pendulum as the opening track is a bit strange. It's a long, progressive composition that will take a few spins before it characterises itself. A perfect closing track in my opinion. Bye Bye Beautiful on the other hand is an imminent monster hit with its perfect mix between Anette's soft and actually catchy verses and Marco's raw and simple choruses. Amaranth is already a hit, and a well deserved one. The hook in the chorus is as simple as genius. Listen and learn, all you songwriters out there!
Eva is a truly touching ballad, in the same class as Sleeping Sun and Forever Yours. Another growing favourite is the dramatic Sahara. I'm usually not that excited about instrumental tracks, but I really love Last Of The Wild. Celtic folk music and metal is a blend that should be further exploited! Meadows Of Heaven is another sad thing, reminding of the Braveheart soundtrack.
How about Anette as the new singer then? Well, it works out just perfect in the softer parts, and mixes great with Marco Hietalas soar throat. But when Anette is trying to sing more aggressive parts it falls flat and sounds just whiny and weak. The worst example is Whoever Brings The Night (why doesn't Hietala sing on that one?), but also 7 Days To The Wolves can serve as evidence. What is worse, I'm still afraid that Nightwish has lost a bit of their originality without Tarjas characteristic opera voice. Anette sure can be softer for the ears sometimes (a whole record with Tarja actually could be quite trying) but now they sound more like Within Temptation and other rival bands. But as long as Toumas keep writing songs like these it will not matter. Nightwish will be bigger than ever!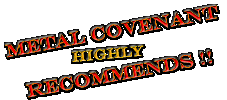 See also review of: Endless Forms Most Beautiful , Imaginaerum , Made In Hong Kong , Once , Century Child , End Of An Era

Performance

Originality

Production

Vocals

Songwriting

Summary





9 chalices of 10 - David
| | |
| --- | --- |
| Related links: | |