Dark Tranquillity - Character

*=Staff's pick

The New Build
Through Smudged Lenses*
Out Of Nothing*
The Endless Feed
Lost To Apathy*
Mind Matters
One Thought
Dry Run*
Am I 1?
Senses Tied*
My Negation

Genre
Melodic Death Metal

Mikael Stanne

Vocals

Tracks
11

Niklas Sundin

Guitar

Runningtime
48 Min.

Martin Henriksson

Guitar

Label
Century Media

Michael Nicklasson

Bass

Release
24 Jan. 2005

Anders Jivarp

Drums

Country
Sweden

Martin Brändström

Keyboards

Similar artists
---

After 2002's Damage Done album, which in my eyes are merely fragments away from being a masterpiece, one might think that the pressure are very high on the guys in Dark Tranquillity to focus on first of all maintaining the extremely high level, and if possible even surpass it. Amazingly enough they succeed in the task. They may not beat Damage Done, but they stay at the exact same level with Character. However, this does not mean that they have made the same album once again in order to ride on the wave. Enough new, fresh and long forgotten elements are baked into this for the result to be highly justified.
The song building is just brilliant, as always, with a perfect blend of traditional metal riffs blended with some slight progressive (or perhaps interesting is a better word for it) elements, which never make a listening session to a Dark Tranquillity album become boring at any point. They also use the keyboard as a perfect complement in the music, with a very held back profile but distinct, and have its own role and creates a vital part of a song when it appears, and brings forth more of a feeling instead of just a sound. After a few albums in the late 90's of a more searching and experimenting nature, they returned to the perfect track again with Damage Done, and this is even a slight more return to the aggressiveness and intensity of the early years, but without sounding especially aggressive in the meaning of the word, but instead it drives the music extremely steady and firm ahead, which i like way better. It's very focused on melodies with many and fat riffs, and the production is also splendid with a very rich, clear and mighty sound.
There are more than one The Gallery vibe I get from this (Out Of Nothing, for example), and I especially love the ever ongoing and flowing stream of guitar harmonies and leads, and the sometimes straight old school heavy/power metal riffs. Overall, the songs vary just perfectly, from the initial first few energetic songs, whereof the first is a fast and intense one with blastbeats, and the more melodic ones with the single track Lost To Apathy and Dry Run as a couple to mention. When they vary in themselves, it turn out to be the best, as in Dry Run which is a really heavy and groovy tune during the verses, and builds up to a faster tempo with a galopping riff and almost power metal-esque harmonies during the bridge and refrain. Regarding a couple of songs (The New Build and My Negation), I would go as far as saying that there are, although tiny and short, fragments of black metal in the atmosphere of the songs.
I have always been holding singer Stanne as one of the absolute best growlers in the business, and here he really hits it off. Awesome performance. The musical style in general is of course basically the same as before, and can't be mistaken for any other band, as their style is quite recognizable and somewhat unique. If you are fan of the material on The Gallery, The Minds's I and especially Damage Done, this is an album you are going to adore. There is not one dead moment, nor are there any boring ones either. This album sure has character, and it's high quality metal at its best.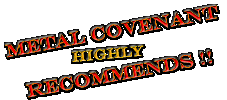 See also review of: We Are The Void , Fiction , Exposures In Retrospect And Denial

Production

Vocals

Compositions

Summary





9 chalices of 10 - Tommy
Related links: