| | |
| --- | --- |
| Powerwolf - Blessed & Possessed | Published July 13 2015 |

*=Staff's pick

Blessed & Possessed*
Dead Until Dark
Army Of The Night
Armata Strigoi
We Are The Wild*
Higher Than Heaven*
Christ & Combat
Sanctus Dominus*
Sacramental Sister
All You Can Bleed
Let There Be Night
Genre
Heavy Metal

Attila Dorn

Vocals

Tracks
11

Matthew Greywolf

Guitar

Running time
46 Min.

Charles Greywolf

Guitar

Label
Napalm Records

Charles Greywolf

Bass

Release
July 17, 2015

Roel Van Helden

Drums

Country
Germany

Falk Maria Schlegel

Keyboard

Producer
-
Similar artists
---

Powerwolf certainly comes out quite unique in many aspects, although the song, and particularly the chorus of, Army Of The Night seems to have been picked up somewhere in the deep vaults of fellow metallers Sabaton. They continue to flourish on what they have talent for and they keep building on what they set ablaze many years ago and the fact of the matter is that they actually don't put in much effort to come out with something specifically new, since they seem to have no need to be more pioneering than what they already have become.
On the other hand, the band is absolutely able to find great melodies, massive hooks, memorable and appealing choruses and all kinds of great shit in what they do and I think maybe there's no reason for change in order to come out groundbreaking just for the sake of it. It's not that they have some kind of obligation to separate themselves from their earlier stuff and why put things in jeopardy in the first place when their recipe to success obviously is working?
The lyrical contents of the album as always pretty much end up somewhere in the matters of religion, the occult and the dark. The heavy metal performed is hard, heavy hitting and powerful. It's like every damn song is exceptionally energetic and bombastic, because the album has a fabulous driving force and an awesome momentum and is just continuously striking through song after song until the end, although the last track is an epic one which differs quite a bit from the rest of the songs.
This is probably the most amazing album I've heard so far in 2015. It basically has an exciting and enthusiastic atmosphere and the band's strive and eagerness to put a tremendous effort into each and every song is quite stunning. Powerwolf is already an established name in metal and this album will absolutely secure the band's current status and with a little bit of luck, they also have a great chance to obtain an even more prominent position in the coming years.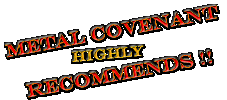 See also review of: Preachers Of The Night , Return In Bloodred


See also: interview with Matthew/Falk Maria

Performance

Originality

Production

Vocals

Songwriting

Summary





9 chalices of 10 - Tobbe