| | |
| --- | --- |
| Alice In Chains - Black Gives Way To Blue | Published September 19 2009 |

*=Staff's pick

All Secrets Known
Check My Brain*
Last Of My Kind*
Your Decision
A Looking In View*
When The Sun Rose Again
Acid Bubble
Lesson Learned
Take Her Out*
Private Hell
Black Gives Way To Blue
Genre
Grunge

W. DuVall/J. Cantrell

Vocals

Tracks
11

William DuVall

Guitar

Runningtime
53 Min.

Jerry Cantrell

Guitar

Label
Virgin Records

Mike Inez

Bass

Release
29 September 2009

Sean Kinney

Drums

Country
USA

-

Keyboard

Similar artists
Stone Temple Pilots, The Foo Fighters, Soundgarden

After nearly a fourteen year hiatus and much anticipation, Alice in Chains has come out with Black Gives Way to Blue, their first full-length record since their self-titled. Little needs to be said about the storied history of Alice in Chains, their former front man Layne Staley and his vices, and ultimately, his untimely death. In the large span of time since their last album, it has been a topic of contention amongst the rock community whether or not Alice could go on after losing such an integral part of their sound.
Moreover, if they were to go on, who would replace Stayley? Many different vocalists stood in during live performances, including Metallica's James Hetfield and ex-Pantera member Phil Anselmo, with nothing solid materializing until recently. When it was confirmed Alice would be going back into the studio, I'm sure many wondered how newcomer William DuVall could fit such large shoes…
Make no mistake: this is a vintage Alice in Chains record through and through, cut from the same cloth as such classics as 1992's Dirt. Sonically, Black Gives Way to Blue has the trademark brooding riffs, chilling use of dissonant chords, vocal melodies, and darkly introspective lyrical content fans have come to expect. Any fear of the band softening or losing their creative inspiration due to age, the loss of Layne, or any other reason can safely be discarded; this is a worthy addition to Alice's back catalog and fits in as such without missing a beat. I think drummer Sean Kinney hit the nail on the head, saying, "I know people are blown away that we really sound like ourselves, and I understand the apprehension, but it's not really that big a stretch to sound the way that you sound."
But there remains one question unanswered that I have carefully side-stepped in describing the sound of this record: How do the vocals sound? In a word - fitting.
A more detailed answer is somewhat elusive, however. Though I wouldn't realize it until listening to his solo material, Jerry Cantrell's voice is a huge part of Alice in Chains' signature sound, so much so that said solo works could easily be considered proper Alice records. What's more is that I am fairly certain the singles released thus far are entirely sung by Cantrell (correct me if I'm wrong), with a considerable amount of vocal presence on the remainder of the songs.
It almost feels a stretch to call DuVall the lead vocalist of the band, as his voice is featured less prominently than Cantrell's, which is an observation that may please fans worried about a change in sound. That being said, certain sections are easy to pick out as DuVall, and the parts he does sing, he does so admirably and not in a fashion that attempts to emulate Staley. But it makes the listener wonder; why not just pick one singer for the entirety of the record? Frankly, Cantrell's vocals are the definitive Alice in Chains sound, and would have not detracted from the experience at all.
Black Gives Way to Blue is everything the fans were expecting from an Alice record, sounding like it could have came right out of the 90's. Despite its lack of progression into new territory, the style and songwriting is something that no other band has been able to capture since, and is something this revered band has been able to preserve through all of the years and turmoil.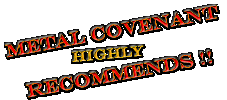 Performance

Originality

Production

Vocals

Songwriting

Summary





9 chalices of 10 - Dux
| | |
| --- | --- |
| Related links: | |