| | |
| --- | --- |
| Ayreon - 01011001 | Published February 01 2008 |

*=Staff's pick

CD 1:
Age Of Shadows*
Comatose
Liquid Eternity
Connect The Dots
Beneath The Waves*
Newborn Race
Ride The Comet*
Web Of Lies

CD 2:
The Fifth Extinction*
Waking Dreams
The Truth Is In Here*
Unnatural Selection
River Of Time*
E=MC2
The Sixth Extinction*




Genre
Progressive Rock/Metal

Various

Vocals

Tracks
15

Arjen Lucassen

Guitar

Runningtime
102 Min.

-

Guitar

Label
Inside Out Music

Arjen Lucassen

Bass

Release
28 Jan. 2008

Ed Warby

Drums

Country
Holland

Arjen Lucassen

Keyboard

Similar artists
---

I am very pleased to announce the return of Dutch genius Arjen Anthony Lucassen as he has decided to save our souls by delivering yet another rock opera with his Ayreon project. Arjen has, as probably most of you already know, been an active musician for a long time now. His first steps to stardom went through the Dutch bands Bodine and Vengeance but after that he has been his own master through different projects such as Star One and Stream Of Passion apart from his main project Ayreon. 01011001 is the follow-up to the heavily hyped and praised The Human Equation and to help him succeed with this "impossible" task he has picked the best vocalists out there today. Well, that's my humble opinion anyway since a lot of my favourite vocalists, such as Daniel Gildenlöw (Pain Of Salvation), Jonas Renske (Katatonia), Hansi Kürsch (Blind Guardian), Tom S. Englund (Evergrey), Jörn Lande, Bob Catley etc., participate on the album. What an extraordinary line-up my friends! On a side note I can tell you that Arjen invited all participants to his own studio, The Electric Castle, to record their parts there. That is quite unusual nowadays since most of these projects come to life through sending files over the net but Arjen's firm conviction is that eye contact with his musicians is a necessity to achieve those magical moments all musicians strive for.
An Ayreon album without a concept story is like an intelligent Yngwie Malmsteen, completely unthinkable! This time Ayreon has returned to a sci-fi theme and the story has a dark undertone that can be applied on the world we are living in today with all the technical achievements that make our lives a bit easier but perhaps not better. The saga basically revolves around a race of aquatic beings, entitled Forever, who lives on Planet Y. Forever have through technical advancements become dependent on machines and have lost their emotions and feelings completely. When a passing comet on collision course with Planet Earth passes they take the opportunity to transport their DNA. The collision with Earth exterminates the dinosaurs and gives birth to Man. Forever are alive again but what will the evolution result in this time?
As you can tell by reading the story line it has a somewhat dark theme which also can be said about the music in some ways since it's a bit darker than we are used to. This is probably a result of the tough years Arjen has experienced lately with a divorce and a disease where he lost his ability to taste and smell. This is however only one side of the musical spectra that 01011001 contain since the album is packed with emotions that fit the lyrical theme in a most splendid way.
Age Of Shadows opens the album with the sound of machines working. A heavy and dark 10-minute piece with a lot of diversity and Middle East flavoured melodies that remind me of Symphony X quite a lot. Comatose is a lot more mellow and thoughtful and works as a breathing pause after the first cracker. With Liquid Eternity we are back to the dark and heavy landscapes again but like a lot of compositions on this album it twists and turns through diverse arrangements and melodies. Connect The Dots is a bit more straight forward in its structure; a calm verse builds up to a great chorus that sticks instantly. Up next is Beneath The Waves which only can be described as an utter masterpiece! This composition has several different parts that give me goose bumps all over. The technique to repeat the main chorus and continuously change the vocalists is nothing but brilliant but despite that, nothing beats the magnificent part entitled "Face The Fact" sung by Hansi Kürsch. I kid you not, but I have never heard Hansi better than on this one! New Born Race offers nothing spectacular in the beginning but after a while a couple of new intriguing parts is included and I'm down on my knees once again. I especially like Jörn Lande's imitation of Phil Lynott on this one. Ride The Comet is one of the most direct tunes with an easily digestible chorus and I liked this one already on the first listening session. CD 1 ends with the beautiful ballad Web Of Lies and is a simple yet brilliantly arranged composition. It's a bit fun when Simone Simons and Phideaux Xavier interact by using their real names, a fact which actually took me a few spins to realise.
Are you still there? Well, if so it's time for CD 2 and at first I thought I had popped one of my Pink Floyd discs into my stereo because I'm confident that I've heard the keyboard that opens The Fifth Extinction on a Floyd album. The song is one of the more complex ones on the album since it has a lot of diversity with different melodies and instrumental parts that intertwine during the ride, just amazing! The sequencer used on the mellow Waking Dreams actually reminds me of an old time favourite; Jean-Michael Jarre. Jonas Renske's vocals are breathtaking on this one, a fact that is consistent regarding all his contributions on this record. It's of course quite unthinkable to release a single from an Ayreon album but hypothetically I would like to nominate The Truth Is In Here as the first choice if that would be the case. This folk flavoured piece has a melody that will haunt you for ages once you've heard it. That I can promise you without a shadow of a doubt! Unnatural Selection is a perfect way to proceed after singing along a bit because this is a heavy one with rhythms that make your head bang. With River Of Time we are once again gathered around the campfire singing along to the beautiful folk melodies Arjen is known for doing so well. E=MC2 is also one of the darker compositions, maybe not one of my favourite cuts but paves the way for the grand finale in the shape of The Sixth Extinction. The closer of this saga has all the epic components to end things off in a majestic way. It's of course dark, heavy, sometimes aggressive (with the inclusion of some growls actually) but also beautiful and highly melodic. A lot of the vocalists that participate on the album are showing up in the end of the song and when song fades I'm on the floor gasping for air (as well as you are dear readers after reading this…).
Arjen Anthony Lucassen has not only done it again, he has outdone all his previous works with 01011001. The fact that he has recorded an album with more than 25 different musicians and all their performances fit together like a glove is marvellous. The fact that the length is 102 minutes and every single note feels necessary, breathtaking and inevitable is incredible. The fact that I have listened to the entire album at least 30 times by now but still have a hunger for more is the ultimate proof that it's a masterpiece in its own right. It's only January but I feel safe to say that this is going to be the best album of 2008. That, my friends, is a fact!
(The complete line-up of vocalists that participate on this masterpiece are as follows: Arjen Lucassen, Hansi Kürsch, Jonas Renske, Daniel Gildenlöw, Anneke van Giersbergen, Tom S. Englund, Simone Simons, Jörn Lande, Ty Tabor, Bob Catley, Steve Lee, Magali Luyten, Floor Jansen, Marjan Welman, Liselotte Hegt, Phideaux Xavier, Wudstik.)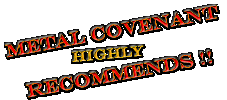 See also review of: The Human Equation


Teaser trailer: 01011001

Performance

Originality

Production

Vocals

Songwriting

Summary





9,5 chalices of 10 - Hawk