Scream For Me, Waldrock...!!!
Written by Gothina, October 2004

- 21.06.2003
- Waldrock Metal Festival, Burgum, The Netherlands
- Bands: Iron Maiden, HIM, Type-O-Negative, Anthrax, Katafalk, Devoted To Hate, Clawfinger, Stratovarius, Sepultura, Lacuna Coil, Peter Pan Speedrock, Murderdolls, Blood For Blood, Annihilator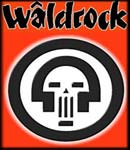 This was my 1st festival abroad, and thus I was very excited about it. Actually I had no idea it existed and even people who live in the same area where it takes place every year have hardly heard of it. What a pity! It is such an amazing event! The place is nearby the city of Leeuwarden, and is called Burgum and it's quite cosy over there. All the inhabitants of the village are really enthusiastic about the fest and they are all trying to be of some help to the visitors. It is very safe there and the camping facilities are also well provided. It is not a big fest though, not like Wacken or Lowlands. But it surely has a special atmosphere. The first band on stage was Devoted To Hate - a Frisian band (Hardcore), followed by Katafalk - a splendid death/thrash metal from Groningen (actually the most brutal band on the festival and definitely one of my favourites!), Peter Pan Speedrock, and then…Anthrax!!!
Along with pieces from the We've Come For You All album, I heard also classical ones like Anti Social, Caught In A Mosh, Got The Time, Nobody Knows Anything, Safe Home, What Doesn't Die…The guys gave their best to the audience and in a way made it much easier for the next band to play: Annihilator! The great Canadian band has always been in my heart with songs such as Alice In Hell, Fantasmagoria, Never Neverland…I finally had the chance to hear them live, and thus experience the pleasure of attending such a fest. Murderdolls were a big surprise to me - I must admit I have never been a great admirer of punk and industrial-like bands, but these guys are surely worth listening to. I was impressed by Split My Wrist, Die My Bride, People Hate Me, and the cover of Billy Idol's White Wedding. They just had fun on stage! Blood For Blood appeared with some oldies as Revenge Of Society, Blood For Blood, and the 2002 album Outlaw Anthems.
I won't hide my sympathy towards Clawfinger - great stage presence, amazing contact with the public, and just blew the ears away with Nigger, Truth…It was difficult to hear all the bands because there were 2 stages - one in a tent and the other one was the main stage in the open air. Lacuna Coil performed in the tent. At first there were a few people there but as Christina began to sing the place was crowded and what impressed me was the fact that she managed to grab the attention of all of us- we were as if hypnotized by her voice and magnificent stage behaviour. Andrea Ferro supported her all the time with rude vocals. The Italian band proved to be very inventive indeed. A sensual gothic mood was all over the crowded tent.
*****************************
I expected Stratovarius with impatience. The melodic power metal band from Finland was obviously the favourite of many people there. I saw a girl and her parents who were also fans of the band, they were singing all the time, headbanging and having fun. Its really great to observe how different generations regard metal music. I felt very exhausted after seing all these bands and I needed a break. The sound of Sepultura gave me some more energy and I went to enjoy Biotech Is Godzilla, the U2 cover Bullet The Blue Sky, and other stuff from Nation and Against. Well, sorry Derek, but Sepultura means nothing to me without Max Cavalera. Its even absurd and funny to listen how someone is trying to sing the songs which only the throat of Max can produce best. Anyway - I had to move to the main stage where I expected almost a miracle because Type-O-Negative had to be next.
Peter Steele was probably not in his best mood or condition (I think he needed some more wine!) and even great pieces like Christian Woman and Wolf Moon could not erase my disappointment from the band's performance. The 13th band I saw was once labled from a friend as a" love metal" band: HIM! Ville Vallo came on stage with his usual sexy outfit and makeup, trying to smoke and sing at the same time. Probably my 16 years old sister would have been almost hysterical about it… We heard hits like Right Here In My Arms, Join Me, Pretending.
*****************************
I was looking forward to the big gig, the band that 12 000 fans expected: IRON MAIDEN! In their original crew, with the man-voice Bruce Dickinson. It was dark and we were all tired. A sudden burst of light awoke the audience-here they were! "Scream for me, Waldroooock!!!"- with these words Dickinson greeted his admirers and the show started: Number Of The Beast, The Trooper, Die With Your Boots On, Revelations, Run To The Hills, 22 Acacia Avenue, Brave New World, Wicker Man, Wildest Dreams…These are some of the songs Iron Maiden performed and exploded the enthusiastic fans. Bruce was jumping and running all over the stage which appeared to be too small for his climbing abilities.
Eddie was dressed as Santa, well - everything I have ever seen of Maiden proved to be real. And it was good, damn good! I think I have never felt so happy in my life as I was during and after this concert. It was special and unique, I had the feeling Maiden were there only for me, and I am sure all the other fans here have had the same emotion as mine. Thanx a lot , Maiden and Stay Heavy!
This was my Waldrock festival 2003.
Related links:
www.waldrock.nl
www.msfriesland.nl


Gothina - October 2004