In our new article series 'In The Rear View Mirror' where we take the pulse on bands/musicians that have since long retired from the scene, either by choice or by natural selection, we will try to find out a bit about what they are up to now, what really happened back then, if they are musically active or not, and more. First out is the dutch band Sleeze Beez, that had quite some success back in the 80's and the beginning of the 90's when they for example opened for Skidrow on an extensive US tour with over 80 dates. They also got to tour Japan and the album 'Screwed Blued and Tattooed' even entered the Billboard chart in 1989. When checking around with people on the internet, there are many that remember them and still find their albums great. We decided to have a chat with former guitarist Don Van Spall about the past and the present.
-------------------------------------------------------------------
Tommy: On the website of your management, you are described as "80's anthemic rock" and some label it as "a fusion of AC/DC and Def Leppard". Was/is that a correct description of the band's music according to you?
Don: I think we were a straight forward sounding band with a twist. Its hard to classify your own stuff. Ask any musician,…..they all want to be unique. Every album had its own sound and influence. If you compare the albums you will find that they all sound different. One album was influenced by Def Leppard as we knew the guys. I hung out with Rick back in the days when I lived in Amsterdam and he even sang backing vocals on couple of tracks.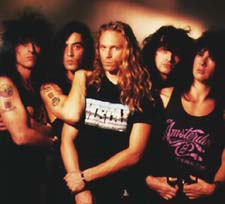 Tommy: What was it that lead up to the demise of the band sometime around 1997-98? Was it lack of interest, lack of commercial success or a combination of both?
Don: It was 1996 btw. We were just tired I guess. We had been touring for 10 years straight. We were ready for new things. The commercial success was never our main goal. We loved being on tour meeting new and interesting people. I must admit that commercial success would had kept the band going on for some time longer, as you do. So maybe it was a blessing in disguise ;-)

Tommy: Could it perhaps be that you were killed by the grunge wave that were sweeping across the world at that time? How was the climate for your kind of music at that point?

Don: Yes, the grunge did some damage here and there but lets face it,….the music is what counts in the end. I believe the grunge was mainly another American thing, although Nirvana is a very special band. These music trends are often hyped by the industry and it was sad to see how most bands jumped on the bandwagon.
Tommy: According to rumors, you have during the years hung out a lot with bands such as Bon Jovi, Ted Nugent, Skidrow and even Gene Simmons. There is to my knowledge a bootleg video circulating where we can see you jamming with Gene Simmons in a rehearsal room in LA. What you are jamming on apperantly the instrumental song Daily Planet, later included on a few KISS demos. Working and hanging with these people in these kind of environments, did you pick up a lot from them and did they made lasting impressions on you, and then I mainly mean musically?
Don: They did not leave musical impressions or influences as such. We learned a lot form these guys in terms of the business we were in. It was a rush to work with Gene Simmons for example. He is a very focused and clear headed person which impressed me greatly and the experience having worked with him is one for life, AND he used to bring coffee and sandwiches to the rehearsal room..hahaha.

Tommy: When you look back on your career, what would you say were the absolute highlight(s)?
Don: The first US tour which was with Skidrow. The crowd loved us and we really left a mark. We also had a fantastic 2 week lasting party with the guys from Skidrow which I will never forget. We started the tour in Detroit heading south all the way to Tampa Florida just in time for the racing weekend. We had a hit single on the radio (Stranger Than Paradise) at that time which gave us a lot of media attention. We ended the tour in New Orleans just in time for Mardi Gras. What a rush!
Tommy: And the lowest downpoint(s)?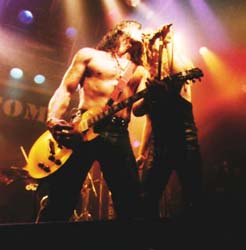 Tommy: What do you think about the scene of today? Both the sleaze scene and the metal/rock scene in general? What do you think about the future of metal/rock from a commercial point of view? Any bands in particular you want to mention as your favourites nowadays?

Tommy: Was there realistically ever a chance or an opportunity for you to hit it off big at the time, either in europe or in the US? If so, why did it not happen in the end?
Tommy: Do you think things could have been different today if you had made other choices at critical points in the career?
Tommy: I can read on the web that there were plans to reunite for a USA tour in the summer of 2003. What happened with those plans? Did anything come out of that? If not, how come?
Don: I guess some of us weren't ready yet. We have had a little get together last year. All I can say we are looking at the possibility to do a couple of shows. It's not easy to get the guys together though. They are all busy touring, studio jobs, writing books and making art.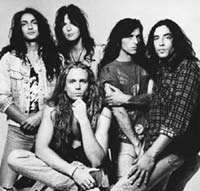 Tommy: What are you personally up to today? How does your life look? What is your profession and are you involved in music in any way at all, either semi-professionally or on a hobby basis?
Don: I'm not active with a band at the moment. I still write music now and again. Music maintains a big factor in my life. I got married last year with a classical musically based lady. Rock meets classic. I saw one of her classical concerts some time ago. That was an intense moment. You have no idea how powerful a 60 piece symphony orchestra can sound.
Tommy: Jan (drums) and Andrew (vocals) did reunite on stage recently for the first time in 10 years as part of a Led Zeppelin tribute, and there were also two dates in Holland taking place. You were not a part of that, I am correct? What was the reason for that?
Tommy: I will round off this little questioning with giving you space to pull off your funniest/weirdest anecdote from the time of the 80's/90's. Please share your best, worst and juciest memories.
Don: One story I love happened on my birthday. The band just finished the last gig in New Orleans with Skid Row. We flew back to New York the next day. Ed and I decided to do a night on the town and after dropping our stuff off in the hotel, we grabbed a taxi. He dropped us of at a joint were they were serving tequila slammers. A lady with a some kind of cowboy belt, with a tequila bottle on one side and a bottle of 7-up on the other side, (the glasses were where the bullets would normally be) was constantly filling us up. After a couple of hundred dollars worth of slammers we decided to go back to the hotel. We had completely forgotten in which room we were, so we decided to break down the door of what we thought was our room. Ed, at some point, decided to try the key-card on the next door and voila it opened. I stopped kicking the other door and Ed and I went in to get some sleep. Some time later we were woken by noise in the hallway. The guy next door had called the police, the fire department and every hotel detective he could find. He must have thought someone wanted to kill him. Anyway, Ed got up, opened the door and started screaming at the cops for waking us up. The cops in the hallway apologized to Ed and we went back to sleep.
Tommy: Many thanks for the chat, Don, and we wish you all the very best for the future. Any last words, tips or recommendations?
Don: Thanks to you for asking. Live, and let live!!!!!!
Line-up:
---------------
Andrew Elt - vocals
Chris van Jaarsveld - guitar
Don van Spall - guitar
Ed Jongsma - bass
Jan Koster - drums
Discography:
---------------
Singles:
- Stranger Than Paradise - 1989 - (Red Bullet)
- Raise A Little Hell - 1992 - (Atlantic)
- I Don't Wanna Live Without You - 1993- (Red Bullet)
- Bring Out The Rebel - 1993 - (Red Bullet)
- Gun Culture -1994 - (Red Bullet)
- If You Hate Rock 'n' Roll - 1994 - (Red Bullet)
- Scream - 1994 - (Red Bullet)

Albums:
- Look Like Hell - 1987 - (21 Records)
- Screwed, Blued & Tattooed - 1989 - (Red Bullet)
- Powertool - 1993 - (Red Bullet)
- Insanity Beach - 1994 - (Red Bullet)
- Live In Tokyo - 1995 - (Red Bullet)

Related links: