In Memory Of Ronnie James Dio
1942 - 2010
Written by Metal Covenant, May 2010

Below you can find some members of Metal Covenant sharing their thoughts, feelings and memories of the man who helped forging an entire metal scene and who approached every single fan, colleague and family member with the utmost dedication and love.


|David| |MettleAngel| |Nate| |Mozzy|
David

he legend, the icon, the voice, the evil eye, the little troll - Ronnie James Dio is dead. I can not believe the news. He was supposed to live forever. It was almost a natural law. A rock star is supposed to die young or live eternally - or at least till he is a hundred years old.

ot even when the news about Dio's stomach cancer spread last year could I imagine that he actually was mortal. Naive, I know, but he was Ronnie James Dio… He should fight it through with some medical help. Losing the battle was not an option.

io was more than his own star, more than the sum of the bands and records of his career. He was the symbol, the forefather of the whole heavy metal movement. It seems especially clear now when all kinds of bands - from black, thrash and death to AOR, power and melodic rock - salute and mourn him. He has been a source of inspiration and target of admiration for them all.

his is a sad day. A day when a bit of music history dies along with the origin of the sign that has kept a whole genre together for decades. I can not help wondering who will be next. Ronnie James Dio, although a bit wrinkled, thin and skinny, seemed healthier than most people of his age in the rock business. He should have been the last in line.

f he can pass away so sudden, no one can be taken for granted anymore. Rock 'n' roll will never die, but somewhere deep inside I guess we all knew that the stars could. When my daughter will be old enough to come with me to rock concerts in eleven years from now, who will still be alive and kicking of the pioneers?

ime will tell, but I am glad to have been given the opportunity to see many of them play live, although some of them a few years from their best days. The last time I saw Dio was when Heaven & Hell played at Wacken last summer. He was, unlike many others (even on the same stage), still on top. I would have liked to see him with the band Dio one more time, but it never happened. It will always come another chance, I thought… The dream was of course to see him reunite with Ritchie Blackmore in Rainbow.

hat said as a fan, my thoughts goes to Ronnie James' family and friends, whose loss is far greater than that.


MettleAngel

was first introduced to Ronnie James Dio when I was in military school in the early '80s. A friend of mine named Guenther, from Saudi Arabia had these killer bootleg tapes, and he sold me one for Sabbath's -'Live Evil' for only $3. This was my first real Sabbath experience, and I first heard songs like "War Pigs" and "Children Of The Grave" with Dio on vocals.

hen I was younger, I had heard Rainbow on the radio in California with such classics as "Man On The Silver Mountain" and "Long Live Rock And Roll" receiving decent airplay. It was not until I saw the amazing video for "Holy Diver" on "USA Night Flight Videos", that I became hooked. Just seeing this diminutive figure wielding a giant sword evoked images of Conan, and my love for playing D&D.

ack then, I was way more into both RJD's solo work as well as Ozzy's , then I was into discovering older Sabbath. To a certain degree, I still prefer the first few Ozzy & Dio releases over Sabbath's early material.

t was not until I saw the "Heavy Metal" Movie, and heard the song - "The Mob Rules", that I became enthralled. I immediately purchased the soundtrack on cassette at K-mart (or was it Sears?). I then instantly became a big fan of those first two Dio Sabbath albums, which are still my favourite.

agree, that DIO inspired many aspects of Metal; especially, the Power Metal, and Fantasy based stuff. forget Gene Simmon's claim to the metal horns, we all know Dio was the first to bring that gesture to light as well; although on the Beatle's 'Yellow Submarine' album, if you look carefully, John Lennon is throwing the horns!

y the time I was a senior in High School, I was hooked on all Rainbow, even if my first experience with them was the Joe Lynn Turner 'Straight Between The Eyes' era. I was totally into the Dio solo work, as well. I remember the first time I saw the videos for "Last In Line" or "Rock And Roll Children", now those were videos! Then came "Stars" the Hear N' Aid project for Africa! I just watched these videos again at You Tube last night. Ah, the memories!

will never forget the first time I saw him on the 'Sacred Heart' Tour with Accept. That was awe-inspiring with the dragon set, and such amazing special effects for the time. I will never forget that summer, as I also saw Metallica with Ozzy on the 'Ultimate Sin' Tour, days before Cliff was killed.



ith the new Accept album due out this September, this concert will truly resonate in my heart, as I again become involved in all thing Accept.

have seen Dio live many times, even during tours for albums that were less than spectacular. I was also able to do a meet and greet with him; a moment I will always cherish.

guess the one show that will always resonate in my heart, would be the tour with Hammerfall for 'Killing The Dragon'; since nine months later, almost to the date my son Stephen was born. I know this holds a special place in my wife of ten years: Wendy's heart. Sadly, this would be the last time we saw him solo. Thankfully, we would catch him twice more with Heaven And Hell, and I am honoured to have written live reviews for both stellar shows.

am also pleased that I was able to write a review for what would be his final work; that being the first and last H&H album - 'The Devil You Know'. I am still playing this CD. I have been ensconced in all things Dio all week. Hell, this may be the most time I have spent on the net all year!

t is sad that he was not able to complete 'Magica II', or play for the Sweden Rocks Festival or Sonisphere with the reunion of the "Big four".

ll in all it is a true tragedy...oh indeed the King of Rock N' Roll will be missed. Dio will always keep the magick alive in my sacred heart, and forever he will shine, like a rainbow in the dark. He will never be the last in a line of worthy mettle hearts who serve either in Heaven or Hell.


Nate

io was among the first "real" heavy metal bands to which I found myself listening at the tender age of seventeen. I have suffered with digestive problems for most of my life, and I was always looking for an escape from the mundane. Then in May of 1998 I got a copy of Dio's Sacred Heart. What a summer! I dissected Sacred Heart and tried-vainly, of course-to play along with Rock n' Roll Children and Another Lie. Vivian Campbell I am not, but I tried.

ore than that, I was opened up to a new world of lyrical opportunities. For some unfathomable reason, I had not put it together that my years of playing Dungeons and Dragons and reading fantasy novels could play into my lyric writing, until I heard the magic, mythos, and mystery from Ronnie's words, and my life changed utterly and irrevocably from that day forward. Two worlds collided, and I emerged. From there, it was Savatage, Testament, Accept, Priest, Maiden... Ronnie James Dio made a metalhead out of me, and I will be forever grateful!

Mozzy

fter reading his wife Wendy's denial regarding Ronnie's death, and that it did not however look good, I feared the worst, feeling uneasy every time I clicked onto metal news sites. And sadly, the report of his passing eventually appeared on the screen, making me burst out a loud "no!" to myself and sending out a wave of hollow, sad feelings. What a terrible loss, of a true icon of heavy metal and hard rock, possibly the greatest of them all. As to his vocal abilities, there has surely not existed a more consistently brilliant, enjoyable and influential singer.

aving taken in the fact that Ronnie James Dio is gone - it is however still a bit hard to grasp - the memories came flooding by. While mourning the loss of our father of heavy metal, it is appropriate to remember everything he gave us. I will therefore account for a couple of my own recollections below.

will never forget that day in 1983 when an older friend of mine opened in advance, secretly, a Christmas present, a square one that looked suspiciously like an LP. The emerging cover was scary as hell, with a devil-like beast towering in the background. The LP was of course Holy Diver by the band Dio. Dio became a favourite, especially the songs Rainbow In The Dark and We Rock. The videos were damn cool as well. I also remember the Hear ´n Aid charity project which Ronnie initiated. Later on, I of course discovered his outstanding work with Rainbow and Black Sabbath. Naturally, Ronnie James Dio has been a recurring figure in my musical enjoyment ever since - as for all metalheads I dare say.

was not until 1998 that I got to see Ronnie live, but it was well worth the wait. Dio remarkably played in Sundsvall, just 100 kilometres from my small hometown. The atmosphere was just phenomenal; the place was totally packed with sweaty, happy (and drunk, as such an occasion calls for serious partying!) fans who had an awesome time. It goes without saying that the show was great too. Afterwards, we waited at the back to meet the little, big man, but not long enough - something which I regret today. The opportunity to see Ronnie live presented itself more times, both at Dio and then Heaven And Hell shows. Apart from being memorable performances, it was nice to witness how he was always very gracious towards his fans, often with a warm smile, and one could tell he loved to perform onstage.

hat Ronnie James Dio was not only an exceptional artist but also a wonderful human-being has been accounted for endless times. Whether he was with fans or fellow rock stars, he was always friendly, humble, generous and interested. Although I never got to meet him one-on-one, I did attend the press conference for Heaven And Hell at last year's Sweden Rock Festival. Dio was very polite and in a cheerful mood and answered everyone's question - no matter how small - with sincerity. The last question to Mr Dio was: "how is it to be the best vocalist on the planet"? Shaking his head, he was his humble self and totally rejected the claim - while also thanking for the compliment many times.

owever, he also added this: "I think it's my passion for what what I do…And I think I'm different than most singers; I think kind of classical things are in my head all the time… I chose to take that kind of an attitude and put it into the music that we make: hard rock music, cause that's what I love to do". Amen to that. Needless to say, his vocals at the festival gig were as marvellous as ever.

ertainly, there is much love - and will continue to be for eternity - all over the world for Ronnie James Dio and the music he had a hand in. Thanks so much you legend, we love you! Long live rock ´n roll!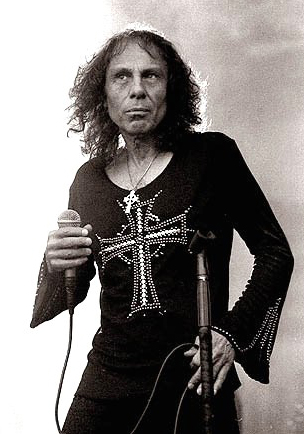 Related links:
www.ronniejamesdio.com
www.myspace.com/dioofficial