DragonForce - Maximum Overload listening session
Written by Tobbe, April 2014

April 8th, Stockholm, Sweden.

n this rainy and chilly Tuesday evening in the capital of Sweden, media representatives from magazines in Sweden and mainland Europe were invited to the first official listening session of DragonForce's coming effort Maximum Overload, which releases August 15th. I entered the control room as second in line and set direction for the sofas in the back, which actually means no longer than about 10 ft from the speakers. In total we were a group of 11 members on location, waiting for a first look of the band's new creation, which marks this outfit's first ever with an outside producer.

he band's French bassplayer Frédéric LeClercq and Swedish producer Jens Bogren were present in Studio 2, as Jens called it. The album was actually recorded at Fascination Street Studios in Örebro and in Varberg, Sweden, but he told us that he will use this place more frequent in the future, much due to its location pretty close to Stockholm's inner city, meaning it will make it easier to travel there, I assume. Also present was DragonForce's long-time manager, Steve McTaggart, who entered the room occasionally and told us some stories about how he never was allowed to enter the studios during recordings, etc.

e were told that the recording sessions had its unruly moments with mainly Fred and Jens on one side and the guitarists Sam Totman and Herman Li on the other. Fred told us that he was more involved in this album and wrote more songs, both in terms of music and lyrics, and that he played a fair share of the guitars as well. DragonForce has worked with this effort for over a year and Fred was a little nervous to what the reactions would be like during this first listening session for people outside their inner circle.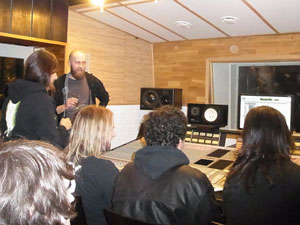 - Jens Bogren in front of the small group invited -

o what about the actual album? I was thinking of doing a track-by-track list, but 1: Is there actually someone who gives a damn about those lists? And 2: Does anyone remember anything that they've read about each song?

ens said that the album was probably finished and to listen to the entire album just once is something special, specifically when considering that there was a 5-10 minute break between each and every song, where Fred and Jens took the time to answer a few questions and also to tell us details about the upcoming track.

ragonForce definitely follows the path they've walk on earlier, but there are in fact certain differences as well. The riffs seems heavier on many occasions and the band has also weaved in some elements of thrash to back up the fast, intense and powerful music. The vocalist, Marc Hudson, seem to have been given enough time to complete the band and I believe that Bogren made him push his voice harder than before and I also think his performance is slightly better than on his latest and first appearance with the band, The Power Within.

songs feature guest vocals of Trivium's Matt Heafy, who was sent the lyrics and later used his voice to record all the lyrics given, in different vocal ranges and to suit different types of metal, meaning that the band had a varied selection to pick from. Fred told us that much of Heafy's hard work eventually ended up on the record, but to be honest, I didn't take much notice of this guest performance during the session, as I had other, more important, things to focus on.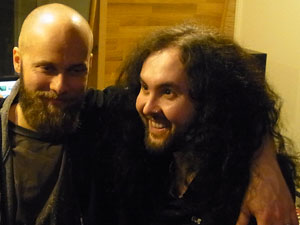 - Jens Bogren and Fred LeClercq having fun at an improvised photo shoot -

he record shows signs of a new force, yet it's traditional with many guitar harmonies and solos that are reminiscent to earlier days and it's still catchy on mainly full throttle. The overall arrangements are more direct and also seemed a little more rough and alive, even if computerized sections are still present to a small extent.

here is only one song that I specifically want to mention; The Sun Is Dead, written by Fred himself. It contains heavy riffs to back up the initial harmony and later it turns out to a rather progressive explosion and it's in fact a somewhat epic track that a few people compared to Dream Theater's Images And Words. Fred was truly very satisfied and I figure also relieved by the great response that this track received from all people in the room.

alfway through the session, Jens came up with a brilliant idea that we could also get a first glimpse and listen to 4 bonus tracks as well. He was eager to play these tracks, but time ran out and a spontaneous photo shoot in the recording room took place instead. Fred eventually placed himself in front of the screen and made us listen to his solo in The Sun Is Dead and according to himself, it's the greatest moment on the entire album.

ersonally, it will be interesting to see what my future opinion of this release will turn out like, when I've been able to give it more spins. Right now I believe that it will be something that I will enjoy, although the first feeling of 2-3 tracks gave my thoughts of two ugly words in music; bonus tracks and fillers.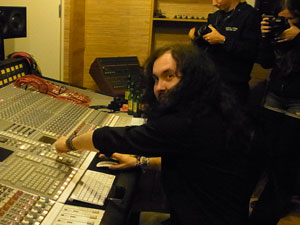 - Fred LeClercq forces his guests to listen to his fade out guitar solo
in The Sun Is Dead one more time -
---
Tracklist:
The Game
Tomorrow's Kings
No More
Three Hammers
Symphony Of The Night
The Sun Is Dead
Defenders
Extraction Zone
City Of Gold
Ring Of Fire (Johnny Cash cover)
(Songtitles due to change. Might be slightly incorrect.)
Playing time: 48:35 minutes.
Personnel:
Marc Hudson - vocals
Sam Totman - guitars
Herman Li - guitars
Frédéric Leclercq - bass and guitars
Dave Mackintosh - drums
Vadim Pruzhanov - keyboards
Produced and mixed by Jens Bogren.
Mastering engineer: Tony Lindgren.

See also: review of the album (updated August 20, 2014)
Related links:
www.dragonforce.com
www.facebook.com/dragonforce
www.myspace.com/dragonforce
www.fascinationstreet.se
www.facebook.com/fascinationstreetstudios


Tobbe - April 2014