My Greatest Metal Moment
Written by Tommy, December 2005

Trying to briefly describe the biggest moment of my metal history may look like a project too big to even make it from the sketchboard but I am going to give it a try anyway.

y candidate for the most complete metal moment in history has to be a part of a song. I have not had the opportunity to meet any celibrities of a rank worth to speak of and I have yet to attend to a concert that really, really blows my mind. Even though it should be a completely impossible task to pick out a song that stands so high above all others (how can you even begin to rank stuff like many old classic 80's songs, the numerous delicious riffs from many guitar masters throughout time, mighty eposes like Treasure Island with Running Wild, monumental monster classics such as Hallowed Is Thy Name by Iron Maiden, just to name a fragment of songs....), I have to highlight a certain part of a song that knocks me out everytime I listen to it and is a perfect example of the melodic and musical aspect I am after when listening to metal. Of course in this case it has a lot to do with my scandinavian heritage but this should appeal to anyone with the slightest interest in melodic metal. Listen to this short sample which is taken from the period 03:25 - 05:49 into the song The Battle from the finnish band Ensiferum and you'll hopefully get a bit of what I am talking about. The amazing guitar lead, the atmosphere, the point when the vocals come in and are causing goose bumps, the pure feeling of metal...this is as good as it gets and this is how I want it to sound. The whole album is a perfect ten with not a second of anything else then perfection, but if I have to choose a short section of it, this is it:

Into The Battle - Ensiferum (sample)
The following is a few thoughts from the rest of my staff members:
Thomas:

here is a tough nut to bust, my personal greatest moment in metal. I had to give this a great deal of thinking after our webmaster Tommy asked us other in the staff for that particular moment. There are a few moments I cherish higher and remember more dearly then others, like the time I was first introduced to metal with Iron Maiden, Thin Lizzy, Black Sabbath and Alice Cooper. These are the great four that set this heavy metal snowball in motion for me. And when I as a kid pounded out Iron Man in the speakers, that were a revelation that I still remember. Also my first concert that was Alice Cooper and his spectacular show that almost made my eyes pop out and that I got to met him several years later is also fond memories. But despite Kiske's affective singing in the magical part of The Keeper Of The Seven Keys where he sings disease, disease my friend… Or the magic orgy in harmonies from Iron Maiden in Phantom Of The Opera. Or the amazing riff from Amon Amarth in Pursuit Of Vikings. And lets not forget the stunning performance from Ronnie James Dio in the ending of Stargazer by Rainbow. But even that Overkill did some of the most serious wrecking of my likings at Sweden Rock Festival there is something else among my metal memorabilia that I never ever will forget.

y greatest momenst in metal was when I met Ozzy Osbourne! Celebrity never impresses me but this time I stood next to the Ozzman himself, one of my heroes alive and kicking right besides little me. Originally, this wasn't supposed to have happened, but through the place where I worked at the time, it was arranged that one of my colleagues was supposed to get and meet his personal heroes in Toto, but that concert was snowed in. And as compensation it was arranged a meet and greet with Ozzy instead and luckily for me I got to tag along. It took place backstage after the concert in Gothenburg on his Retirement Sucks tour in November 1995. However, before we where lead into a dressing room I got the opportunity to get meet and get autographs from the special guest for the evening: Fear Factory. Overwhelmed by this band that I was heavily into at the time I felt that perhaps I should say something and found myself stuttering and sounding something like Beavis & Butthead since all I could get out was: 'Uh-hu hu-hu, You guys kicks ass or something, hu-hu'. Way to go, Thomas....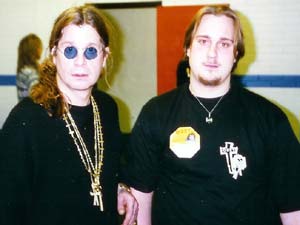 ut now back to Ozzy again. This meeting took place ten years ago, almost to the day actually and eagerly I was waiting in this room and finally he entered. He took his time with all there and at last it was my turn to met him, the man that is one of the main reasons for me becoming the metal head I am today. I shook his hand and said something to compliment on the great show he just had delivered before he signed a copy of his album, and then standing beside me so that this moment could be captured on photo. Although I complimented on the show I am not sure the message was received, Ozzy was a wreck, he was shaky and totally absent seeming to have no idea of where he was or what he was doing. If he was fatigued from doing an amazing show or addicted to drugs at the time I will not speculate in. And I really don't care either, since there I was with the, excuse my language, fucking Prince Of Darkness.
Mat:

alk about a mission impossible was what I initially thought when Tommy brought about this idea! So many great memories and experiences over the years that I really had to think for a very long time before I could start sorting out the ones more in the leading categories and come up with an answer that met this particular experience the most. But having given this some serious thought and twisted and turned it around enough number of times I realised that the most profound metal moment in my life doubtlessly was when the first seed was planted and my metal addiction saw the first lights of day. I was only about ten years old at the time and when looking back at that event now I realise that's when it all began, even though I couldn't possibly comprehend it then.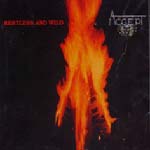 was over at a friend's place and his older brother owned lots of LP:s. Iron Maiden, Kiss, Saxon, Accept and Judas Priest were bands talked about a lot and I remember my excitement when I finally was about to have my share of these rumoured treasures. Many tracks from The Number of the Beast, Screaming for Vengeance and Power and the Glory struck harder than any music ever had before but the one song that truly made my head spin and my heart pound the most was Accept's masterpiece Fast as a Shark. I so clearly remember our first laugh at the initial raspy (even more enhanced on an a bad and old vinyl player) folk-music sung intro but when all hell breaks loose with Udo Dirkschneider's laughter and screaming leading into the main riff I was in heaven in no time. The pace, the action, the atmosphere, the full metal concept, the feelings all this stirred produced an amount of pleasurable emotions to such a degree that thinking back on it now I realise that nothing has never quite equalled and never surpassed that moment no matter how great other listening experiences have been over the years.

y musical interest then drifted away from heavy metal for a couple of years when it took a little detour focusing more on melodic rock and even more radio based mainstream pop but I always felt something was missing. So in my mid teen years the aim almost exclusively was directed towards heavy metal again and when bands like Helloween, Running Wild and Blind Guardian were discovered power metal had also found its way to my inner soul and the missing music pieces had been found and restored. But doubtlessly it all originated from that moment when everything felt so right and still today metal in its prime make my mind start drifting towards that forever imprinted memory from childhood. So my greatest metal moment is that of a 10-year old boy with eyes as wide as teacups and the body shaking in total excitement listening to Accept's Fast as a Shark, the entire song from start to finish. An amazing impact that took place a quarter of a century ago and paved the way for the future. Every journey has a first step and that would turn out to be mine.

Niklas:

hile lazily flipping through the channels on a regular Sunday morning, I suddenly found myself glued to the tv-screen. This particular music-video started out with what looked like the portal in the movie Stargate, zooming in on a band all dressed in white. The music started out with a hypnotic keyboard-sequence, soon followed by an extremely catchy riff played by crushing guitars. The song also contained raspy vocals and growls, a chorus that nailed itself to the brain immediately, and a captivating solo towards the finale. I had never been a big fan of metal before, except for the odd song by either Judas Priest or Iron Maiden. But this changed it all. The song in question? "Cloud Connected" by the Gothenburg-band In Flames. Shortly thereafter I went out and bought all their albums, and I've been hooked on metal ever since. It's almost like a drug.


Tommy - December 2005